سرفصل های مهم
لورنا دون
توضیح مختصر
زمان مطالعه

8 دقیقه

سطح

ساده
دانلود اپلیکیشن «زیبوک»
این کتاب را می‌توانید به بهترین شکل و با امکانات عالی در اپلیکیشن «زیبوک» بخوانید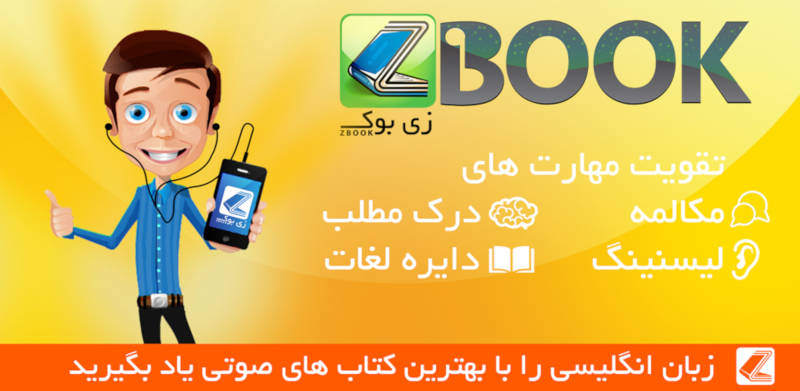 متن انگلیسی کتاب
Chapter 2 Lorna Doone
There are two rivers near our farm — the Bagworthy river and the Lynn. About two miles below our farm, the Bagworthy joins the Lynn, making one wide stream. This stream runs past high hills and through dark woods. It makes little lakes where there are fish. Sometimes, in the summer, I went alone to catch fish, and sometimes I went with my sister Annie.
At fourteen years old, I was very big for my age. Other boys laughed at my size, but they did not want to make me angry because I was strong too. When I fought another boy, I always beat him.
One cold spring morning, I went out to catch fish for my mother. I hung my shoes around my neck and started to walk up a stream that ran near the farm. I went about two miles up the stream, but did not catch any fish. Then I came to a place where the stream was wider and colder. I had caught no fish and I wanted to go home. I took out bread and meat from my bag and began to eat it. As I ate, I began to feel stronger, and I decided to go up the Bagworthy stream as far as the Doone valley. It was a small decision, but it changed my life completely.
The water in this stream was very cold. There were dark places under the trees which filled my heart with fear. But I found a lot of fish. I did not think about the time, but went farther and farther up the stream. I shouted happily when I caught a fish, and my voice came back to me from the hills. There was no other sound in the cold, quiet air.
The country around me got hillier, with high rocks on either side of the stream. I came to an opening in the trees and saw in front of me a pool of deep, black water. It was a whirlpool and the water went round and round, very fast. I looked up at the high rock on the other side and saw a clear stream of water falling down over the rock. It was a beautiful sight. I wanted to climb to the top and find out why the water came down like that.
I put the fish in a bag round my neck and stood on a rock by the pool. But the rock was green and wet, and I fell into the water. I swam hard but I was carried out, away from the rock, and I could not get back to it.
I was very frightened because by now I was near the bottom of the waterfall. I reached out to some rocks and, with great difficulty, I managed to pull myself out. Then I looked around.
The wall of rock around the waterfall went straight up. I could not walk round to the place where I had entered the water. But it was too dangerous to go back into the water.
Looking closely at the waterfall, I saw that there was space between the water and the rock behind it. I could climb up the rock to the top of the waterfall. It was dangerous, and if I fell I would die, but I had no choice. I began to climb, very slowly. The water fell a few inches from my body, the sharp rocks cut my feet and my legs shook with fear, but I climbed up and up. Suddenly I felt fresh air and climbed faster until I fell onto grass.
When I opened my eyes, I saw a little girl by my side.
'Oh, I'm so glad,' she whispered softly, as I looked at her. 'You will be all right now, won't you ?'
I had never heard a sweeter voice. I had never seen anything as beautiful as her dark eyes and thick dark hair. I thought of her then as a beautiful spring flower. Now, when I see a spring flower, I still think of her. Perhaps she liked my face too. She told me afterwards that she did.
I sat up.
'What's your name?' she asked. 'How did you come here?
And what have you got in your bag?'
'They're fish for my mother, but I'll give you some, if you want.'
'Oh, you've hurt your feet!' she cried. 'And you have no shoes. Is your mother very poor, boy?'
'No,' I answered crossly. 'We could buy this whole field if we wanted to. My shoes are in this other bag. But who are you? I've never seen anyone like you before. My name'sJohn Ridd.What's your name?'
'Lorna Doone.'
Doone! To me, the name was terrible! She was one of the Doones who had killed my father. But her voice touched my heart and I could not hate her. Her beautiful hair fell down onto her shoulders. There were lights and shadows in her eyes, like sunlight in a deep forest.
I stood up and touched her hand and tried to make her look at me. But she turned away and started to cry; she was so ashamed of her name.
'Don't cry,' I said, 'I'm sure you've never hurt anyone. I'll give you all my fish, Lorna, and catch some more for Mother. But don't cry.'
'Why did you come here?' she asked. 'The Doones would kill us both if they found you here with me.'
'They wouldn't dare to kill you.'
'They would. They'd kill us both and throw our bodies into the water,' she said.
'Why?' I asked.
'Because you've found the secret way into the Doone valley.
They'd think I showed you the way. Now please go, please go! I like you very much, and I'll call you "John", if you like. When your feet are better, you can come and see me.'
'I like you, Lorna. I like you nearly as much as my sister Annie, and more than my sister Lizzie. I've never seen anyone like you.
I'll come again tomorrow, and bring you apples and a little dog.'
'Oh, they won't let me have a dog,' she said. 'There isn't a dog in the whole valley.'
'Put your hand in mine,' I said. 'You're such a little thing.'
Suddenly, someone shouted down in the valley. My heart started beating fast, and the little girl's face turned white with fear.
'Oh,' she cried, 'save me!'
'Come with me.We can climb down the back of the waterfall!'
'No, no!' she said. 'They'll see us crossing the grass. Can you see that hole there, near those bushes? There's a way out of the valley through that hole.'
I saw ten or twelve men coming down the valley. I quickly jumped down to the edge of the stream and pulled Lorna after me.
'Queen! Queen!' the men shouted. 'Where have you gone?'
'They always call me "Queen", 'the little girl whispered. 'I'll be queen of the valley when I am older.'
'Listen,' I said quickly. 'I'll hide in the water. You lie on the grass over there and pretend to be asleep.'
Lorna ran about a hundred feet to a large rock and lay down, while I lay down in the water. Only my nose showed among the tall grasses. Soon, one of the big men came round the corner. He stopped and looked at Lorna for a moment, then picked her up in his arms.
'Here's our queen,' he shouted. 'Here's our captain's daughter.'
He put her on his shoulder, and the men went back down the valley. I waited, then went to the hole in the rock that Lorna had pointed to. It was as black as night, but I climbed inside it. It was smooth and narrow and very steep. I went very fast — almost fell - down a long, dark passage which brought me out at the edge of the whirlpool. I climbed out and looked back up the hole. I could see no light at the end of it. The passage was very smooth and steep, and I knew that I could not climb up into the valley this way.
مشارکت کنندگان در این صفحه
تا کنون فردی در بازسازی این صفحه مشارکت نداشته است.
🖊 شما نیز می‌توانید برای مشارکت در ترجمه‌ی این صفحه یا اصلاح متن انگلیسی، به این لینک مراجعه بفرمایید.