سرفصل های مهم
دو پسر عمو
توضیح مختصر
زمان مطالعه

16 دقیقه

سطح

متوسط
دانلود اپلیکیشن «زیبوک»
این درس را می‌توانید به بهترین شکل و با امکانات عالی در اپلیکیشن «زیبوک» بخوانید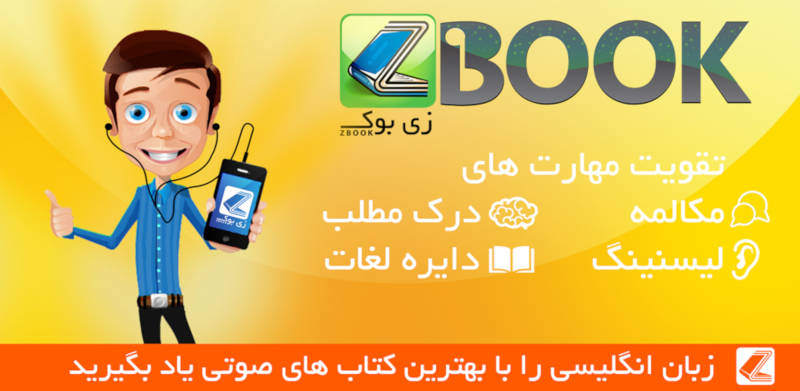 متن انگلیسی درس
Chapter 9 The Two Cousins
(from The Tractate Middoth)
One autumn afternoon, an elderly man entered a library, showing a card with his name on it - Mr John Eldred - and asked if he could borrow a book. 'The name of the book I want is The Tractate Middoth - it's number 11334, I believe,' he said. 'But I don't know this library at all. Would someone be able to go and find it for me?'
A young man who worked there, Mr Garrett, was passing and he answered, 'Of course, I'll go and find it for you immediately, sir.' Mr Eldred sat down on a chair near the door to wait.
When Mr Garrett returned he had to apologize for failing to find the book. 'I'm very sorry, Mr Eldred, but someone has already borrowed that hook.'
'Are you sure?' replied Mr Eldred.
'Yes, sir,' said Garrett, 'but if you wait a moment you'll probably meet the man who has taken it as he leaves the library. I didn't see him very well but I think he was an elderly man, quite short, wearing a black coat.'
'It's all right.' said Mr Eldred,'I won't wait now, thank you. I have to go. But I'll come back again tomorrow and perhaps you can find out who has the book?'
' Of course,' replied Garrett, and Eldred left the library quickly.
Garrett thought, 'I'll just go back to that room and see if I can find the old man. I'll ask him if he can wait a few days for the book and then I'll give it to Mr Eldred tomorrow.' So he went back to the same room and, when he got there, the book - The Tractate Middoth - was back in the right place.
Garrett felt very bad.'Mr Eldred hasn't got the book he wants.
he said to himself, 'because I didn't see it. I'll wait for him tomorrow and give him the book myself.'
The next morning, he was waiting for Mr Eldred. 'I'm very sorry,' he said when Eldred came in, 'but I was sure that the old man took the book away with him. If you'll wait for a moment.
I'll run and get it for you now' Again Eldred sat down and waited, but this time his wait was very long. After twenty minutes he asked the woman behind the front desk if it was very far to the part of the library where Garrett was looking for the book.
' No , not far at all, sir,' she answered. 'It's odd that he's taking such a long time,' and she went to look for Garrett. She came back a few minutes later, looking rather worried. 'I'm very sorry, sir, but something has happened to Mr Garrett,' she said. 'He suddenly became ill while he was looking for your book and we have had to send him home.'
Mr Eldred was surprised but he answered politely, 'I'm so sorry that Mr Garrett became ill while he was trying to help me.
I'd very much like to go to his house to ask how he is. Could you give me his address?'
The woman gave him the address and, before he left, Eldred asked her one last question. 'Did you see an elderly man in a black coat, leaving the library soon after I was here yesterday afternoon?'
' N o , I didn't,' replied the woman. 'There were only two or three other men in here yesterday afternoon and they were all quite young, I think.'
Mr Eldred then left for Mr Garrett's house. He found him in a chair by the fire, looking pale and ill. 'I'm so sorry for all the trouble I have caused you,' Garrett said.
'Don't worry about it,' said Eldred.'But what happened in that room? Did you fall? Did you see something?'
'Well, yes, I did fall and it was because I saw something,'
answered Garrett.'It was just as I went into the room where we keep that book you want . . . '
'No, no,' said Eldred hurriedly. 'Don't tell me now. You will make yourself ill again.'
'But I'd like to tell someone,' answered Garrett.
'Not now, young man, not now,' said Eldred, standing up quickly. 'I'm afraid I must go now,' and he moved towards the door. Garrett gave him the exact number of the book, The Tractate Middoth, so that he could go to the library and find it himself the next day. But Eldred did not appear at the library again.
Garrett had another visitor later that day - George Earle, who worked with him. George said, 'I'm sure there is something odd going on at the library, you know. W h e n we found you on the floor there was a terrible, strong smell in that room. It can't be good for people to work with a smell like that.'
Garrett replied,'That smell isn't always there. I've only noticed it during the last few days. And it wasn't the smell that made me ill. It was something I saw . . . let me tell you about it. I went into that room this morning to get a book for a man who was waiting downstairs, a Mr Eldred. The afternoon before, I saw a short, old man in black take the same book out, but when I looked again the book was there, back in its place. So this morning, I went back to get it for Mr Eldred, but the same old man in black was there again. I looked more closely at him this time and saw that his skin was dry and brown and dusty. He had no hair at all.
Horrible, he was; really ugly. He was reading a book near the one I wanted and when he turned round I saw his face . . . and he had no eyes! It was a terrible shock. Everything suddenly seemed to go black inside my heard and I fell. I can't tell you anything more.'
Before Garrett returned to work, his boss at the library told him to take a week off, go away somewhere and get some fresh air, to try to forget his experience. So he went to the station, carrying his luggage, and waited for a train to Burnstow-on-Sea.
As the train arrived, only one car seemed to have any places in it, but as he walked towards it, the head of the old man with no eyes suddenly appeared again at the window of the train. Garrett felt sick. He ran to the next car and j u m p e d into it just as the train started to move. The next thing he knew was that a woman and her daughter were kindly helping him to sit down. They seemed rather worried about him. Mrs Simpson and her daughter were also travelling to Burnstow-on-Sea. They had an apartment there and during the journey they invited Garrett to stay with them.
They soon became friends and spent a lot of time together. On the third evening of his stay, when Garrett was telling them about his work at the library, the daughter suggested that Garrett might be able to help them with a problem they had.
'Yes,' said her mother. 'We'll tell Mr Garrett our story and perhaps he'll be able to help us.'
'I'll certainly try,' answered Garrett.
'Well,' began Mrs Simpson, 'I had an old uncle called Dr Rant, and when he died he left directions that we should put his body in a special underground room under a field near his house, and that he should wear his ordinary clothes. Since then, many of the country people around there say that they have seen him in his old black coat. Anyway, he's been dead for twenty years now. He had no wife or family - just me, his niece, and my cousin John.
He had a lot of money and a big house and John and I hoped to receive half each when he died. But the day before he died, I was sitting near his bed when he suddenly opened his eyes and said, "Mary. I've left everything to John in my will, you know. You won't get anything when I die." This was a shock to me, because my husband and I were not rich and we needed the money, but I said nothing because I felt that he wanted to say something more.
I was right. He continued, "But, Mary, I don't like John and I think my will is wrong. I've decided that you should have everything . . . but first you'll have to find the letter in which I have written my new will and I'm not going to tell you where it is. But I will tell you one thing - I've left it in a book. Mary, and the book is not in this house. It's in a place where John can go and find it any time. So, I'll tell you something more that John doesn't know. When I'm dead you'll find an envelope in my desk with your name on it and inside it you'll find something that will help you." Well, a few hours later, he died and I wrote to my cousin John Eldred, but of course, he has never replied Meanwhile, we have to continue living in our small apartmer here at Burnstow-on-Sea.'
'Did you say John Eldred?' asked Garrett, amazed. 'I saw a ma called John Eldred just a few days ago. A thin, elderly man.'
'Yes, that sounds like him. Where did you see him?' asked MJ Simpson.
'In a public place,' said Garrett. 'I don't know if I should tell you where. But what about the envelope?'
'Here it is,' answered Mrs Simpson. And she took out a small piece of paper with just five numbers on it - 11334. Garret thought for a moment and then asked, ' Do you think Mr Eldred knows exactly where the book is which contains your unckle's letter?'
'Well, I don't know. People say he's always going to libraries and bookshops, so he must know its name, but probably not where it is,' answered Mrs Simpson.
Garrett was silent as he thought about the problem.
The next day, Garrett left Burnstow-on-Sea and travelled home by train. He couldn't remember if the book Mr Eldred wanted so badly had the same library number as the one on Mr Simpson's piece of paper, but he knew there were three possibilities: 1.13.34, 11.33.4 or 11.3.34. As soon as the train arrived he went to the library to look. 11.33.4 was in the rig..
place, but 11.3.34 was not there. He ran to the front desk and asked the woman there, 'Has anyone taken out book numb 11.3.34?'
'How would I know? Do you think I can remember all the numbers of books people take out?' the woman replied.
'Well, has Mr Eldred been back here - you know, the old man who was here the day I became ill?'
'No, he hasn't been back here himself, but he did send me some money and asked me to send him a book. I couldn't refuse, of course. What would you do if someone sent you money and asked you to do such a thing?'
'I suppose I would do the same. Could you show me the ticket Mr Eldred sent and give me his address, please?'
'Here's the ticket,' said the woman. 'The book is number 11.3.34. Isn't that the number you just said you wanted? I'm afraid I didn't keep the address.'
'When did you send the book?' asked Garrett.
'At half past ten this morning.'
'Good, it's only one o'clock now,' he thought. But how could he get the address? He thought quickly and then remembered that John Eldred was living in his uncle's house, the house that Mrs Simpson and her daughter knew' was really theirs.'And if the dead uncle gave the book with that letter inside it to this library, then it must be on our list. And I know that he died about twenty years ago,' thought Garrett So, he found the list and turned back to 1870. There it was: 14 August 1875, The Tractate Middoth, Given by Doctor J.Rant of Bretfield House.
Garrett looked for Bretfield House on a map. It was about a two-hour train journey away, he found. He left immediately for the station and caught the train, thinking all the time about what he was going to say to Mr Eldred about the book and about why he wanted to take it back with him. When he arrived at Bretfield Station, he started walking quickly towards the house, hoping that he would arrive there before the book did.
Suddenly, Garrett saw a taxi with two men in it, just leaving the station, going in the same direction as he was. He recognized John Eldred and thought to himself, 'He's been to the station to collect the book which the library sent him this morning.' He stopped and looked towards the taxi. Eldred was getting out of it and the driver was moving away slowly up the road. Eldred followed it on foot. As he walked, something fell from his pocket; a box of matches. He continued walking.
It was getting dark; the light was going now. Eldred was walking slowly but Garrett could see that he was turning the pages of the book, looking for something. He then stopped and felt in all his pockets; he looked annoyed when he found that the box of matches was not there. He was just about to tear a page from the book when suddenly something small and dark ran out from behind a tree. Two strong black arms caught him round the head and neck. There was no sound; Eldred fought wildly but silently with his arms and legs. Then it was over. Eldred lay there alone on the road. Garrett shouted and started to run towards the body. Another man who was working in a field near the road, ran over to help, but Eldred was already dead.
Later, the police and the lawyers asked Garrett many questions but he could only repeat, 'Someone attacked Mr Eldred just as he was going to tear a page from his book.'
They soon found, of course, that on the same page there was a lot of writing by old Doctor Rant, which said that his house and all his money really belonged to Mrs Mary Simpson and not to John Eldred. And it is not very difficult to imagine how William Garrett was soon able to leave his job at the library to become the next owner of Bretfield House, with his wife, Mrs Simpson's daughter.
مشارکت کنندگان در این صفحه
تا کنون فردی در بازسازی این صفحه مشارکت نداشته است.
🖊 شما نیز می‌توانید برای مشارکت در ترجمه‌ی این صفحه یا اصلاح متن انگلیسی، به این لینک مراجعه بفرمایید.