سرفصل های مهم
بخش 05
توضیح مختصر
زمان مطالعه

44 دقیقه

سطح

متوسط
دانلود اپلیکیشن «زیبوک»
این فصل را می‌توانید به بهترین شکل و با امکانات عالی در اپلیکیشن «زیبوک» بخوانید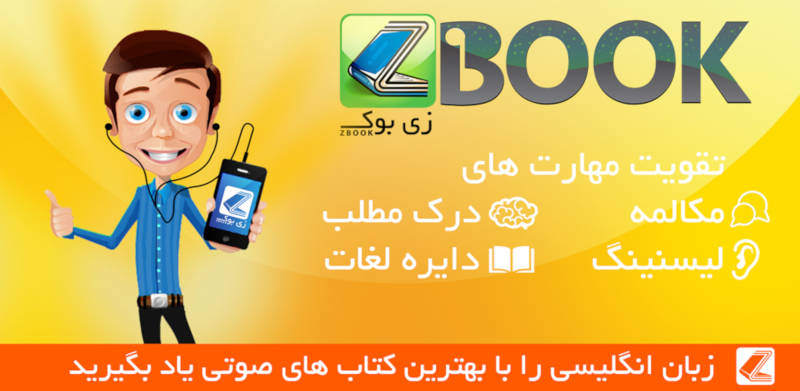 متن انگلیسی فصل
36
They put four of the unbroken jars in the burlap sack, in case they might be able to use them. Stanley carried the sack. Zero held the shovel."I should warn you," Stanley said. "I'm not exactly the luckiest guy in the world."
Zero wasn't worried. "When you spend your whole life living in a hole," he said, "the only way you can go is up."
They gave each other the thumbs-up sign, then headed out.
It was the hottest part of the day. Stanley's empty-empty-empty canteen was still strapped around his neck. He thought back to the water truck, and wished he'd at least stopped and filled his canteen before running off.
They hadn't gone very far before Zero had another attack. He clutched his stomach as he let himself fall to the ground.
Stanley could only wait for it to pass. The sploosh had saved Zero's life, but it was now destroying him from the inside. He wondered how long it would be before he, too, felt the effects.
He looked at Big Thumb. It didn't seem any closer than when they first started out.
Zero took a deep breath and managed to sit up.
"Can you walk?" Stanley asked him.
"Just give me a second," Zero said. He took another breath, then, using the shovel, pulled himself back to his feet. He gave Stanley the thumbs-up sign and they continued.
Sometimes Stanley would try to go for a long while without looking at Big Thumb. He'd make a mental snapshot of how it looked, then wait maybe ten minutes before looking at it again, to see if it seemed closer.
It never did. It was like chasing the moon.
And if they ever reached it, he realized, then they'd still have to climb it.
"I wonder who she was," said Zero.
"Who?"
"Mary Lou," said Zero.
Stanley smiled. "I guess she was once a real person on a real lake. It's hard to imagine."
"I bet she was pretty," said Zero. "Somebody must have loved her a lot, to name a boat after her."
"Yeah," said Stanley. "I bet she looked great in a bathing suit, sitting in the boat while her boyfriend rowed."
Zero used the shovel as a third leg. Two legs weren't enough to keep him up. "I got to stop and rest," hesaid after a while.
Stanley looked at Big Thumb. It still didn't look any closer. He was afraid if Zero stopped, he might never get started again. "We're almost there," he said.
He wondered which was closer: Camp Green Lake or Big Thumb?
"I really have to sit down."
"Just see if you can go a little—"
Zero collapsed. The shovel stayed up a fraction of a second longer, perfectly balanced on the tip of the blade, then it fell next to him.
Zero knelt, bent over with his head on the ground. Stanley could hear a very low moaning sound coming from him. He looked at the shovel and couldn't help but think that he might need it to dig a grave. Zero's last hole.
And who will dig a grave for me? he thought.
But Zero did get up, once again flashing thumbs-up.
"Give me some words," he said weakly.
It took Stanley a few seconds to realize what he meant. Then he smiled and said, "R-u-n."
Zero sounded it out to himself. "Rr-un, run. Run."
"Good. F-u-n."
"Fffun."
The spelling seemed to help Zero. It gave him something to concentrate on besides his pain and weakness.
It distracted Stanley as well. The next time he looked up at Big Thumb, it really did seem closer.
They quit spelling words when it hurt too much to talk. Stanley's throat was dry. He was weak and exhausted, yet as bad as he felt, he knew that Zero felt ten times worse. As long as Zero could keep going, he could keep going, too.
It was possible, he thought, he hoped, that he didn't get any of the bad bacteria. Zero hadn't been able to unscrew the lid. Maybe the bad germs couldn't get in, either. Maybe the bacteria were only in the jars which opened easily, the ones he was now carrying in his sack.
What scared Stanley the most about dying wasn't his actual death. He figured he could handle the pain.
It wouldn't be much worse than what he felt now. In fact, maybe at the moment of his death he would be too weak to feel pain. Death would be a relief. What worried him the most was the thought of his parents not knowing what happened to him, not knowing whether he was dead or alive. He hated to imagine what it would be like for his mother and father, day after day, month after month, not knowing, living on false hope. For him, at least, it would be over. For his parents, the pain would never end.He wondered if the Warden would send out a search party to look for him. It didn't seem likely. She didn't send anyone to look for Zero. But no one cared about Zero. They simply destroyed his files.
But Stanley had a family. She couldn't pretend he was never there. He wondered what she would tell them. And when?
"What do you think's up there?" Zero asked.
Stanley looked to the top of Big Thumb. "Oh, probably an Italian restaurant," he said.
Zero managed to laugh.
"I think I'll get a pepperoni pizza and a large root beer," said Stanley.
"I want an ice cream sundae," said Zero. "With nuts and whipped cream, and bananas, and hot fudge."
The sun was almost directly in front of them. The thumb pointed up toward it.
They came to the end of the lake. Huge white stone cliffs rose up before them.
Unlike the eastern shore, where Camp Green Lake was situated, the western shore did not slope down gradually. It was as if they had been walking across the flat bottom of a giant frying pan, and now they had to somehow climb up out of it.
They could no longer see Big Thumb. The cliffs blocked their view. The cliffs also blocked out the sun.
Zero groaned and clutched his stomach, but he remained standing. "I'm all right," he whispered.
Stanley saw a rut, about a foot wide and six inches deep, running down a cliff. On either side of the rut were a series of ledges. "Let's try there," he said.
It looked to be about a fifty-foot climb, straight up.
Stanley still managed to hold the sack of jars in his left hand as he slowly moved up, from ledge to ledge, crisscrossing the rut. At times he had to use the side of the rut for support, in order to make it to the next ledge.
Zero stayed with him, somehow. His frail body trembled terribly as he climbed the stone wall.
Some of the ledges were wide enough to sit on. Others stuck out no more than a few inches—just enough for a quick step. Stanley stopped about two-thirds of the way up, on a fairly wide ledge. Zero came up alongside him.
"You okay?" Stanley asked.
Zero gave the thumbs-up sign. Stanley did the same.
He looked above him. He wasn't sure how he'd get to the next ledge. It was three or four feet above hishead, and he didn't see any footholds. He was afraid to look down.
"Give me a boost," said Zero. "Then I'll pull you up with the shovel."
"You won't be able to pull me up," said Stanley.
"Yes, I will," said Zero.
Stanley cupped his hands together, and Zero stepped on his interwoven fingers. He was able to lift Zero high enough for him to grab the protruding slab of rock. Stanley continued to help him from below as Zero pulled himself onto the ledge.
While Zero was getting himself situated up there, Stanley ' attached the sack to the shovel by poking a hole through the burlap. He held it up to Zero.
Zero first grabbed hold of the sack, then the shovel. He set the shovel so that half the blade was supported by the rock slab. The wooden shaft hung down toward Stanley. "Okay," he said.
Stanley doubted this would work. It was one thing for him to lift Zero, who was half his weight. It was quite another for Zero to try to pull him up.
Stanley grabbed hold of the shovel as he climbed up the rock wall, using the sides of the rut to help support him. His hands moved one over the other, up the shaft of the shovel.
He felt Zero's hand clasp his wrist.
He let go of the shaft with one hand and grabbed the top of the ledge.
He gathered his strength and for a brief second seemed to defy gravity as he took a quick step up the wall and, with Zero's help, pulled himself the rest of the way over the ledge.
He caught his breath. There was no way he could have done that a few months ago.
He noticed a large spot of blood on his wrist. It took him a moment to realize that it was Zero's blood.
Zero had deep gashes in both hands. He had held on to the metal blade of the shovel, keeping it in place, as Stanley climbed.
Zero brought his hands to his mouth and sucked up his blood.
One of the glass jars had broken in the sack. They decided to save the pieces. They might need to make a knife or something.
They rested briefly, then continued on up. It was a fairly easy climb the rest of the way.
When they reached flat ground, Stanley looked up to see the sun, a fiery ball balancing on top of Big Thumb. God was twirling a basketball.
Soon they were walking in the long thin shadow of the thumb.37
"We're almost there," said Stanley. He could see the base of the mountain.
Now that they really were almost there, it scared him. Big Thumb was his only hope. If there was no water, no refuge, then they'd have nothing, not even hope.
There was no exact place where the flat land stopped and the mountain began. The ground got steeper and steeper, and then there was no doubt that they were heading up the mountain.
Stanley could no longer see Big Thumb. The slope of the mountain was in the way.
It became too steep to go straight up. Instead they zigzagged back and forth, increasing their altitude by small increments every time they changed directions.
Patches of weeds dotted the mountainside. They walked from one patch to another, using the weeds as footholds. As they got higher, the weeds got thicker. Many had thorns, and they had to be careful walking through them.
Stanley would have liked to stop and rest, but he was afraid they'd never get started again. As long as Zero could keep going, he could keep going, too. Besides, he knew they didn't have much daylight left.
As the sky darkened, bugs began appearing above the weed patches. A swarm of gnats hovered around them, attracted by their sweat. Neither Stanley nor Zero had the strength to try to swat at them.
"How are you doing?" Stanley asked.
Zero pointed thumbs up. Then he said, "If a gnat lands on me, it will knock me over."
Stanley gave him some more words. "B-u-g-s," he spelled.
Zero concentrated hard, then said, "Boogs."
Stanley laughed.
A wide smile spread across Zero's sick and weary face as well. "Bugs," he said.
"Good," said Stanley. "Remember, it's a short 'u' if there's no 'e' at the end. "Okay, here's a hard one.
How about, l-u-n-c-h?"
"Luh— Luh-un—" Suddenly, Zero made a horrible, wrenching noise as he doubled over and grabbed his stomach. His frail body shook violently, and he threw up, emptying his stomach of the sploosh.
He leaned on his knees and took several deep breaths. Then he straightened up and continued going.
The swarm of gnats stayed behind, preferring the contents of Zero's stomach to the sweat on the boys'faces.
Stanley didn't give him any more words, thinking that he needed to save his strength. But about ten or fifteen minutes later, Zero said, "Lunch."
As they climbed higher, the patches of weeds grew thicker, and they had to be careful not to get their feet tangled in thorny vines. Stanley suddenly realized something. There hadn't been any weeds on the lake.
"Weeds and bugs," he said. "There's got to be water around somewhere. We must be getting close."
A wide clown-like smile spread across Zero's face. He flashed the thumbs-up sign, then fell.
He didn't get up. Stanley bent over him. "C'mon, Zero," he urged. "We're getting close. C'mon, Hector.
Weeds and bugs. Weeds and boogs."
Stanley shook him. "I've already ordered your hot fudge sundae," he said. "They're making it right now."
Zero said nothing.
38
Stanley took hold of Zero's forearms and pulled him upright. Then he stooped down and let Zero fall over his right shoulder. He stood up, lifting Zero's worn-out body off the ground.
He left the shovel and sack of jars behind as he continued up the mountain. Zero's legs dangled in front of him.
Stanley couldn't see his feet, which made it difficult to walk through the tangled patches of weeds and vines. He concentrated on one step at a time, carefully raising and setting down each foot. He thought only about each step, and not the impossible task that lay before him.
Higher and higher he climbed. His strength came from somewhere deep inside himself and also seemed to come from the outside as well. After focusing on Big Thumb for so long, it was as if the rock had absorbed his energy and now acted like a kind of giant magnet pulling him toward it.
After a while he became aware of a foul odor. At first he thought it came from Zero, but it seemed to be in the air, hanging heavy all around him.
He also noticed that the ground wasn't as steep anymore. As the ground flattened, a huge stone precipice rose up ahead of him, just barely visible in the moonlight. It seemed to grow bigger with each step he took.
It no longer resembled a thumb.And he knew he'd never be able to climb it.
Around him, the smell became stronger. It was the bitter smell of despair.
Even if he could somehow climb Big Thumb, he knew he wouldn't find water. How could there be water at the top of a giant rock? The weeds and bugs survived only by an occasional rainstorm, like the one he had seen from camp.
Still, he continued toward it. If nothing else, he wanted to at least reach the Thumb.
He never made it.
His feet slipped out from under him. Zero's head knocked against the back of his shoulder as he fell and tumbled into a small muddy gully.
As he lay face down in the muddy ditch, he didn't know if he'd ever get up again. He didn't know if he'd even try. Had he come all this way just to . . . You need water to make mud!
He crawled along the gully in the direction that seemed the muddiest. The ground became gloppier. The mud splashed up as he slapped the ground.
Using both hands, he dug a hole in the soggy soil. It was too dark to see, but he thought he could feel a tiny pool of water at the bottom of his hole. He stuck his head in the hole and licked the dirt.
He dug deeper, and as he did so, more water seemed to fill the hole. He couldn't see it, but he could feel it—first with his fingers, then with his tongue.
He dug until he had a hole that was about as deep as his arm was long. There was enough water for him to scoop out with his hands and drop on Zero's face.
Zero's eyes remained closed. But his tongue poked out between his lips, searching out the droplets.
Stanley dragged Zero closer to the hole. He dug, then scooped some more water and let it pour out of his hands into Zero's mouth.
As he continued to widen his hole, his hand came across a smooth, round object. It was too smooth and too round to be a rock.
He wiped the dirt off of it and realized it was an onion.
He bit into it without peeling it. The hot bitter juice burst into his mouth. He could feel it all the way up to his eyes. And when he swallowed, he felt its warmth move down his throat and into his stomach.
He only ate half. He gave the other half to Zero.
"Here, eat this."
"What is it?" Zero whispered.
"A hot fudge sundae."39
Stanley awoke in a meadow, looking up at the giant rock tower. It was layered and streaked with different shades of red, burnt orange, brown, and tan. It must have been over a hundred feet tall.
Stanley lay awhile, just looking at it. He didn't have the strength to get up. It felt like the insides of his mouth and throat were coated with sand.
And no wonder. When he rolled over he saw the water hole. It was about two and a half feet deep and over three feet wide. At the bottom lay no more than two inches of very brown water.
His hands and fingers were sore from digging, especially under his fingernails. He scooped some dirty water into his mouth, then swished it around, trying to filter it with his teeth.
Zero moaned.
Stanley started to say something to him, but no words came out of his mouth, and he had to try again.
"How you doing?" It hurt to talk.
"Not good," Zero said quietly. With great effort, he rolled over, raised himself to his knees, and crawled to the water hole. He lowered his head into it and lapped up some water.
Then he jerked back, clutched his knees to his chest, and rolled to his side. His body shook violently.
Stanley thought about going back down the mountain to look for the shovel, so he could make the water hole deeper. Maybe that would give them cleaner water. They could use the jars as drinking glasses.
But he didn't think he had the strength to go down, let alone make it back up again. And he didn't know where to look.
He struggled to his feet. He was in a field of greenish white flowers that seemed to extend all the way around Big Thumb.
He took a deep breath, then walked the last fifty yards to the giant precipice and touched it.
Tag, you're it.
Then he walked back to Zero and the water hole. On the way he picked one of the flowers. It actually wasn't one big flower, he discovered, but instead each flower was really a cluster of tiny little flowers that formed a round ball. He brought it to his mouth but had to spit it out.
He could see part of the trail he had made the night before, when he carried Zero up the mountain. If he was going to head back down and look for the shovel, he realized, he should do it soon, while the trail was fresh. But he didn't want to leave Zero. He was afraid Zero might die while he was gone.Zero was still lying doubled over on his side. "I got to tell you something," he said with a groan.
"Don't talk," said Stanley. "Save your strength."
"No, listen," Zero insisted, then he closed his eyes as his face twisted with pain.
"I'm listening," Stanley whispered.
"I took your shoes," Zero said.
Stanley didn't know what he was talking about. His shoes were on his feet. "That's all right," he said.
"Just rest now."
"It's all my fault," said Zero.
"It's nobody's fault," said Stanley.
"I didn't know," Zero said.
"That's okay," Stanley said. "Just rest."
Zero closed his eyes. But then again he said, "I didn't know about the shoes."
"What shoes?"
"From the shelter."
It took a moment for Stanley to comprehend. "Clyde Livingston's shoes?"
"I'm sorry," said Zero.
Stanley stared at him. It was impossible. Zero was delirious.
Zero's "confession" seemed to bring him some relief. The muscles in his face relaxed. As he drifted into sleep, Stanley softly sang him the song that had been in his family for generations.
"If only, if only," the woodpecker sighs,
"The bark on the tree was just a little bit softer."
While the wolf waits below, hungry and lonely,
He cries to the moo—oo—oon,
"If only, if only."40
When Stanley found the onion the night before, he didn't question how it had come to be there. He ate it gratefully. But now as he sat gazing at Big Thumb and the meadow full of flowers, he couldn't help but wonder about it.
If there was one wild onion, there could be more.
He intertwined his fingers and tried to rub out the pain. Then he bent down and dug up another flower, this time pulling up the entire plant, including the root.
"Onions! Fresh, hot, sweet onions," Sam called as Mary Lou pulled the cart down Main Street. "Eight cents a dozen."
It was a beautiful spring morning. The sky was painted pale blue and pink—the same color as the lake and the peach trees along its shore.
Mrs. Gladys Tennyson was wearing just her nightgown and robe as she came running down the street after Sam. Mrs. Tennyson was normally a very proper woman who never went out in public without dressing up in fine clothes and a hat. So it was quite surprising to the people of Green Lake to see her running past them.
"Sam!" she shouted.
"Whoa, Mary Lou," said Sam, stopping his mule and cart. "G'morning, Mrs. Tennyson," he said. "How's little Becca doing?"
Gladys Tennyson was all smiles. "I think she's going to be all right. The fever broke about an hour ago.
Thanks to you."
"I'm sure the good Lord and Doc Hawthorn deserve most of the credit."
"The Good Lord, yes," agreed Mrs. Tennyson, "but not Dr. Hawthorn. That quack wanted to put leeches on her stomach! Leeches! My word! He said they would suck out the bad blood. Now you tell me. How would a leech know good blood from bad blood?"
"I wouldn't know," said Sam.
"It was your onion tonic," said Mrs. Tennyson. "That's what saved her."
Other townspeople made their way to the cart. "Good morning, Gladys," said Hattie Parker. "Don't you look lovely this morning."
Several people snickered.
"Good morning, Hattie," Mrs. Tennyson replied."Does your husband know you're parading about in your bed clothes?" Hattie asked.
There were more snickers.
"My husband knows exactly where I am and how I am dressed, thank you," said Mrs. Tennyson. "We have both been up all night and half the morning with Rebecca. She almost died from stomach sickness.
It seems she ate some bad meat."
Hattie's face flushed. Her husband, Jim Parker, was the butcher.
"It made my husband and me sick as well," said Mrs. Tennyson, "but it nearly killed Becca, what with her being so young. Sam saved her life."
"It wasn't me," said Sam. "It was the onions."
"I'm glad Becca's all right," Hattie said contritely.
"I keep telling Jim he needs to wash his knives," said Mr. Pike, who owned the general store.
Hattie Parker excused herself, then turned and quickly walked away.
"Tell Becca that when she feels up to it to come by the store for a piece of candy," said Mr. Pike.
"Thank you, I'll do that."
Before returning home, Mrs. Tennyson bought a dozen onions from Sam. She gave him a dime and told him to keep the change.
"I don't take charity," Sam told her. "But if you want to buy a few extra onions for Mary Lou, I'm sure she'd appreciate it."
"All right then," said Mrs. Tennyson, "give me my change in onions."
Sam gave Mrs. Tennyson an additional three onions, and she fed them one at a time to Mary Lou. She laughed as the old donkey ate them out of her hand.
Stanley and Zero slept off and on for the next two days, ate onions, all they wanted, and splashed dirty water into their mouths. In the late afternoon Big Thumb gave them shade. Stanley tried to make the hole deeper, but he really needed the shovel. His efforts just seemed to stir up the mud and make the water dirtier.
Zero was sleeping. He was still very sick and weak, but the sleep and the onions seemed to be doing him some good. Stanley was no longer afraid that he would die soon. Still, he didn't want to go for the shovel while Zero was asleep. He didn't want him to wake up and think he'd been deserted.
He waited for Zero to open his eyes.
"I think I'll go look for the shovel," Stanley said."I'll wait here," Zero said feebly, as if he had any other choice.
Stanley headed down the mountain. The sleep and the onions had done him a lot of good as well. He felt strong.
It was fairly easy to follow the trail he had made two days earlier. There were a few places where he wasn't sure he was going the right way, but it just took a little bit of searching before he found the trail again.
He went quite a ways down the mountain but still didn't find the shovel. He looked back up toward the top of the mountain. He must have walked right past it, he thought. There was no way he could have carried Zero all the way up from here.
Still, he headed downward, just in case. He came to a bare spot between two large patches of weeds and sat down to rest. Now he had definitely gone too far, he decided. He was tired out from walking down the hill. It would have been impossible to have carried Zero up the hill from here, especially after walking all day with no food or water. The shovel must be buried in some weeds.
Before starting back up, he took one last look around in all directions. He saw a large indentation in the weeds a little farther down the mountain. It didn't seem likely that the shovel could be there, but he'd already come this far.
There, lying in some tall weeds, he found the shovel and the sack of jars. He was amazed. He wondered if the shovel and sack might have rolled down the hill. But none of the jars were broken, except the one which had broken earlier. And if they had rolled down the hill, it is doubtful that he would have found the sack and shovel side by side.
On his way back up the mountain, Stanley had to sit down and rest several times. It was a long, hard climb.
41
Zero's condition continued to improve.
Stanley slowly peeled an onion. He liked eating them one layer at a time.
The water hole was now almost as large as the holes he had dug back at Camp Green Lake. It contained almost two feet of murky water. Stanley had dug it all himself. Zero had offered to help, but Stanley thought it better for Zero to save his strength. It was a lot harder to dig in water than it was in a dry lake.
Stanley was surprised that he himself hadn't gotten sick—either from the sploosh, the dirty water, or from living on onions. He used to get sick quite a lot back at home.Both boys were barefoot. They had washed their socks. All their clothes were very dirty, but their socks were definitely the worst.
They didn't dip their socks into the hole, afraid to contaminate the water. Instead they filled the jars and poured the water over their dirty socks.
"I didn't go to the homeless shelter very often," Zero said. "Just if the weather was really bad. I'd have to find someone to pretend to be my mom. If I'd just gone by myself, they would have asked me a bunch of questions. If they'd found out I didn't have a mom, they would have made me a ward of the state."
"What's a ward of the state?"
Zero smiled. "I don't know. But I didn't like the sound of it."
Stanley remembered Mr. Pendanski telling the Warden that Zero was a ward of the state. He wondered if Zero knew he'd become one.
"I liked sleeping outside," said Zero. "I used to pretend I was a Cub Scout. I always wanted to be a Cub Scout. I'd see them at the park in their blue uniforms."
"I was never a Cub Scout," said Stanley. "I wasn't good at social stuff like that. Kids made fun of me because I was fat."
"I liked the blue uniforms," said Zero. "Maybe I wouldn't have liked being a Cub Scout."
Stanley shrugged one shoulder.
"My mother was once a Girl Scout," said Zero.
"I thought you said you didn't have a mother."
"Everybody has to have a mother."
"Well, yeah, I know that."
"She said she once won a prize for selling the most Girl Scout cookies," said Zero. "She was real proud of that."
Stanley peeled off another layer of his onion.
"We always took what we needed," Zero said. "When I was little, I didn't even know it was stealing. I don't remember when I found out. But we just took what we needed, never more. So when I saw the shoes on display in the shelter, I just reached in the glass case and took them."
"Clyde Livingston's shoes?" asked Stanley.
"I didn't know they were his. I just thought they were somebody's old shoes. It was better to take someone's old shoes, I thought, than steal a pair of new ones. I didn't know they were famous. There was a sign, but of course I couldn't read it. Then, the next thing I know everybody's making this big deal about how the shoes are missing. It was kind of funny, in a way. The whole place is going crazy. There I was, wearing the shoes, and everyone's running around saying, 'What happened to the shoes?' 'Theshoes are gone!' I just walked out the door. No one noticed me. When I got outside, I ran around the corner and immediately took off the shoes. I put them on top of a parked car. I remember they smelled really bad."
"Yeah, those were them," said Stanley. "Did they fit you?"
"Pretty much."
Stanley remembered being surprised at Clyde Livingston's small shoe size. Stanley's shoes were bigger.
Clyde Livingston had small, quick feet. Stanley's feet were big and slow.
"I should have just kept them," said Zero. "I'd already made it out of the shelter and everything. I ended up getting arrested the next day when I tried to walk out of a shoe store with a new pair of sneakers. If I had just kept those old smelly sneakers, then neither of us would be here right now."
42
Zero became strong enough to help dig the hole. When he finished, it was over six feet deep. He filled the bottom with rocks to help separate the water from the dirt.
He was still the best hole digger around.
"That's the last hole I will ever dig," he declared, throwing down the shovel.
Stanley smiled. He wished it were true, but he knew they had no choice but to eventually return to Camp Green Lake. They couldn't live on onions forever.
They had been completely around Big Thumb. It was like a giant sundial. They followed the shade.
They were able to see out in all directions. There was no place to go. The mountain was surrounded by desert.
Zero stared at Big Thumb. "It must have a hole in it," he said, "filled with water."
"You think?"
"Where else could the water be coming from?" Zero asked. "Water doesn't run uphill."
Stanley bit into an onion. It didn't burn his eyes or nose, and, in fact, he no longer noticed a particularly strong taste.
He remembered when he had first carried Zero up the hill, how the air had smelled bitter. It was the smell of thousands of onions, growing and rotting and sprouting.
Now he didn't smell a thing."How many onions do you think we've eaten?" he asked.
Zero shrugged. "I don't even know how long we've been here."
"I'd say about a week," said Stanley. "And we probably each eat about twenty onions a day, so that's . . ."
"Two hundred and eighty onions," said Zero.
Stanley smiled. "I bet we really stink."
Two nights later, Stanley lay awake staring up at the star-filled sky. He was too happy to fall asleep.
He knew he had no reason to be happy. He had heard or read somewhere that right before a person freezes to death, he suddenly feels nice and warm. He wondered if perhaps he was experiencing something like that.
It occurred to him that he couldn't remember the last time he felt happiness. It wasn't just being sent to Camp Green Lake that had made his life miserable. Before that he'd been unhappy at school, where he had no friends, and bullies like Derrick Dunne picked on him. No one liked him, and the truth was, he didn't especially like himself.
He liked himself now.
He wondered if he was delirious.
He looked over at Zero sleeping near him. Zero's face was lit in the starlight, and there was a flower petal in front of his nose that moved back and forth as he breathed. It reminded Stanley of something out of a cartoon. Zero breathed in, and the petal was drawn up almost touching his nose. Zero breathed out, and the petal moved toward his chin. It stayed on Zero's face for an amazingly long time before fluttering off to the side.
Stanley considered placing it back in front of Zero's nose, but it wouldn't be the same.
It seemed like Zero had lived at Camp Green Lake forever, but as Stanley thought about it now, he realized that Zero must have gotten there no more than a month or two before him. Zero was actually arrested a day later. But Stanley's trial kept getting delayed because of baseball.
He remembered what Zero had said a few days before. If Zero had just kept those shoes, then neither of them would be here right now.
As Stanley stared at the glittering night sky, he thought there was no place he would rather be. He was glad Zero put the shoes on the parked car. He was glad they fell from the overpass and hit him on the head.
When the shoes first fell from the sky, he remembered thinking that destiny had struck him. Now, he thought so again. It was more than a coincidence. It had to be destiny.Maybe they wouldn't have to return to Camp Green Lake, he thought. Maybe they could make it past the camp, then follow the dirt road back to civilization. They could fill the sack with onions, and the three jars with water. And he had his canteen as well.
They could refill their jars and canteen at the camp. Maybe sneak into the kitchen and get some food.
He doubted any counselors were still on guard. Everyone had to think they were dead. Buzzard food.
It would mean living the rest of his life as a fugitive. The police would always be after him. At least he could call his parents and tell them he was still alive. But he couldn't go visit them, in case the police were watching the apartment. Although, if everyone thought he was dead, they wouldn't bother to watch the apartment. He would have to somehow get a new identity.
Now, I'm really thinking crazy, he thought. He wondered if a crazy person wonders if he's crazy.
But even as he thought this, an even crazier idea kept popping into his head. He knew it was too crazy to even consider. Still, if he was going to be a fugitive for the rest of his life, it would help to have some money, perhaps a treasure chest full of money.
You're crazy! he told himself. Besides, just because he found a lipstick container with K B on it, that didn't mean there was treasure buried there.
It was crazy. It was all part of his crazy feeling of happiness.
Or maybe it was destiny.
He reached over and shook Zero's arm. "Hey, Zero," he whispered.
"Huh?" Zero muttered.
"Zero, wake up."
"What?" Zero raised up his head. "What is it?"
"You want to dig one more hole?" Stanley asked him.
43
"We weren't always homeless," Zero said. "I remember a yellow room."
"How old were you when you . . ." Stanley started to ask, but couldn't find the right words. ". . . moved out?"
"I don't know. I must have been real little, because I don't remember too much. I don't remember moving out. I remember standing in a crib, with my mother singing to me. She held my wrists and mademy hands clap together. She used to sing that song to me. That one you sang . . . It was different, though . . ."
Zero spoke slowly, as if searching his brain for memories and clues. "And then later I know we lived on the street, but I don't know why we left the house. I'm pretty sure it was a house, and not an apartment. I know my room was yellow."
It was late afternoon. They were resting in the shadow of the Thumb. They had spent the morning picking onions and putting them in the sack. It didn't take long, but long enough so that they had to wait another day before heading down the mountain.
They wanted to leave at the first hint of daylight, so they'd have plenty of time to make it to Camp Green Lake before dark. Stanley wanted to be sure he could find the right hole. Then, they would hide by it until everyone went to sleep.
They would dig for as long as it seemed safe, and not a second longer. And then, treasure or no treasure, they'd head up the dirt road. If it was absolutely safe, they'd try to steal some food and water from the camp kitchen.
"I'm good at sneaking in and out of places," Zero had said.
"Remember," Stanley had warned. "The door to the Wreck Room squeaks."
Now he lay on his back, trying to save his strength for the long days ahead. He wondered what happened to Zero's parents, but he didn't ask. Zero didn't like answering questions. It was better to just let him talk when he felt like it.
Stanley thought about his own parents. In her last letter, his mom was worried that they might be evicted from their apartment because of the smell of burning sneakers. They could easily become homeless as well.
Again, he wondered if they'd been told that he ran away from camp. Were they told that he was dead?
An image appeared in his head of his parents hugging each other and crying. He tried not to think about it.
Instead he tried to recapture the feelings he'd had the night before—the inexplicable feeling of happiness, the sense of destiny. But those feelings didn't return.
He just felt scared.
The next morning they headed down the mountain. They'd dunked their caps in the water hole before putting them on their heads. Zero held the shovel, and Stanley carried the sack, which was crammed with onions and the three jars of water. They left the pieces of the broken jar on the mountain.
"This is where I found the shovel," Stanley said, pointing out a patch of weeds.
Zero turned and looked up toward the top of the mountain. "That's a long way.""You were light," Stanley said. "You'd already thrown up everything that was inside your stomach."
He shifted the sack from one shoulder to the other. It was heavy. He stepped on a loose rock, slipped, then fell hard. The next thing he knew he was sliding down the steep side of the mountain. He dropped the sack, and onions spilled around him.
He slid into a patch of weeds and grabbed onto a thorny vine. The vine ripped out of the earth, but slowed him enough so that he was able to stop himself.
"Are you all right?" Zero asked from above.
Stanley groaned as he pulled a thorn out of the palm of his hand. "Yeah," he said. He was all right. He was worried more about the jars of water.
Zero climbed down after him, retrieving the sack along the way. Stanley pulled some thorns out of his pant legs.
The jars hadn't broken. The onions had protected them, like Styrofoam packing material. "Glad you didn't do that when you were carrying me," Zero said.
They'd lost about a third of the onions, but recovered many of them as they continued down the mountain. When they reached the bottom, the sun was just rising above the lake. They walked directly toward it.
Soon they stood on the edge of a cliff, looking down on the dry lake bed. Stanley wasn't sure, but he thought he could see the remains of the Mary Lou off in the distance.
"You thirsty?" Stanley asked.
"No," said Zero. "How about you."
"No," Stanley lied. He didn't want to be the first one to take a drink. Although they didn't mention it, it had become a kind of challenge between him and Zero.
They climbed down into the frying pan. It was a different spot from where they had climbed up. They eased themselves down from one ledge to another, and let themselves slide in other places, being especially careful with the sack.
Stanley could no longer see the Mary Lou, but headed in what he thought was the right direction. As the sun rose, so did the familiar haze of heat and dirt.
"You thirsty?" Zero asked.
"No," said Stanley.
"Because you have three full jars of water," said Zero. "I thought maybe it was getting too heavy for you.
If you drink some, it will lighten your load."
"I'm not thirsty," said Stanley. "But if you want a drink, I'll give you some."
"I'm not thirsty," said Zero. "I was just worried about you."Stanley smiled. "I'm a camel," he said.
They walked for what seemed like a very long time, and still never came across the Mary Lou. Stanley was pretty sure they were heading in the right direction. He remembered that when they left the boat, they were headed toward the setting sun. Now they were headed toward the rising sun. He knew the sun didn't rise and set exactly in the east and west; more southeast and southwest, but he wasn't sure how that made a difference.
His throat felt as if it was coated with sandpaper. "You sure you're not thirsty?" he asked.
"Not me," said Zero. His voice was dry and raspy.
When they did finally take a drink, they agreed to do it at the same time. Zero, who was now carrying the sack, set it down and took out two jars, giving one to Stanley. They decided to save the canteen for last, since it couldn't accidentally break.
"You know I'm not thirsty," Stanley said, as he unscrewed the lid. "I'm just drinking so you will."
"I'm just drinking so you will," said Zero.
They clinked the jars together and, each watching the other, poured the water into their stubborn mouths.
Zero was the first to spot the Mary Lou, maybe a quarter mile away, and just a little off to the right.
They headed for it.
It wasn't even noon yet when they reached the boat. They sat against the shady side and rested.
"I don't know what happened to my mother," Zero said. "She left and never came back."
Stanley peeled an onion.
"She couldn't always take me with her," Zero said. "Sometimes she had to do things by herself."
Stanley had the feeling that Zero was explaining things to himself.
"She'd tell me to wait in a certain place for her. When I was real little, I had to wait in small areas, like on a porch step or a doorway. 'Now don't leave here until I get back,' she'd say.
"I never liked it when she left. I had a stuffed animal, a little giraffe, and I'd hug it the whole time she was gone. When I got bigger I was allowed to stay in bigger areas. Like, 'Stay on this block.' Or, 'Don't leave the park.' But even then, I still held Jaffy."
Stanley guessed that Jaffy was the name of Zero's giraffe.
"And then one day she didn't come back," Zero said. His voice sounded suddenly hollow. "I waited for her at Laney Park.""Laney Park," said Stanley. "I've been there."
"You know the playscape?" asked Zero.
"Yeah. I've played on it."
"I waited there for more than a month," said Zero. "You know that tunnel that you crawl through, between the slide and the swinging bridge? That's where I slept."
They ate four onions apiece and drank about half a jar of water. Stanley stood up and looked around.
Everything looked the same in all directions.
"When I left camp, I was heading straight toward Big Thumb," he said. "I saw the boat off to the right.
So that means we have to turn a little to the left."
Zero was lost in thought. "What? Okay," he said.
They headed out. It was Stanley's turn to carry the sack.
"Some kids had a birthday party," Zero said. "I guess it was about two weeks after my mother left.
There was a picnic table next to the playscape and balloons were tied to it. The kids looked to be the same age as me. One girl said hi to me and asked me if I wanted to play. I wanted to, but I didn't. I knew I didn't belong at the party, even though it wasn't their playscape. There was this one mother who kept staring at me like I was some kind of monster. Then later a boy asked me if I wanted a piece of cake, but then that same mother told me, 'Go away!' and she told all the kids to stay away from me, so I never got the piece of cake. I ran away so fast, I forgot Jaffy."
"Did you ever find him—it?"
For a moment, Zero didn't answer. Then he said, "He wasn't real."
مشارکت کنندگان در این صفحه
تا کنون فردی در بازسازی این صفحه مشارکت نداشته است.
🖊 شما نیز می‌توانید برای مشارکت در ترجمه‌ی این صفحه یا اصلاح متن انگلیسی، به این لینک مراجعه بفرمایید.