سرفصل های مهم
رهبرمان، امانوئل گلدستاین
توضیح مختصر
زمان مطالعه

10 دقیقه

سطح

متوسط
دانلود اپلیکیشن «زیبوک»
این درس را می‌توانید به بهترین شکل و با امکانات عالی در اپلیکیشن «زیبوک» بخوانید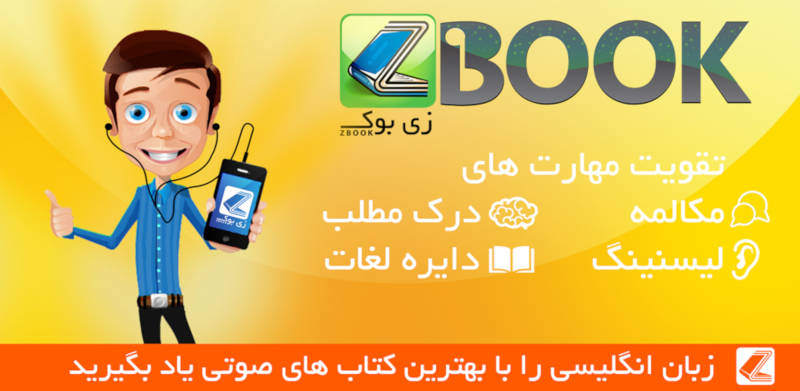 متن انگلیسی درس
Chapter 7 Our Leader, Emmanuel Goldstein
They vaporized Syme. One morning he was not at work; a few careless people talked about his absence. On the next day nobody talked about him. His name disappeared from lists and newspapers.
He did not exist. He had never existed.
Parsons was helping to organize Hate Week. He was completely happy, running around painting posters, singing the new Hate Song, smelling even more strongly of sweat in the hot weather.
Daily life no longer caused Winston pain: He had stopped drinking gin at all hours and his knee felt better. He did not want to shout angry words at the telescreen all the time.
He met Julia four, five, six — seven times during the month of June. It was so hot at the end of the month that they lay on the bed in the room over Mr Charrington's shop without clothes on.
The rat had never come back.
Sometimes they talked about a more open war against the Party, but they did not know how to begin. Winston told her about the strange understanding that seemed to exist between himself and O'Brien. He sometimes felt like going to see him, telling him he was the enemy of the Party, demanding O'Brien's help. Strangely, Julia did not think this was a wild idea. She judged people by their faces and it seemed natural to her that the look in O'Brien's eyes made Winston believe in him. Also, she thought that everybody secretly hated the Party, although she did not believe in Goldstein and the Brotherhood; she thought the Party had invented them.
And then at last it happened. All his life, it seemed to him, he had been waiting for this: there was a message from O'Brien.
•
Winston was outside his office at the Ministry when he heard a small cough behind him and turned. It was O'Brien.
'I was reading your Newspeak article the other day. You know a lot about Newspeak, I believe.'
'Oh, not really. I've never invented any of the words …'
'But you write it very well,' said O'Brien. 'That is not only my own opinion. I was talking recently to a friend of yours who knows a lot about Newspeak. I can't remember his name at the moment.'
Winston's heart jumped. This could only mean Syme. But Syme was not only dead, he was vaporized, an unperson. It was dangerous to talk about an unperson; they could kill you for it.
O'Brien was sharing a thoughtcrime with him.
' In your Newspeak article you used two words which we have recently taken out of the language,' said O'Brien. 'Have you seen the new tenth edition?'
'No,' said Winston. 'We still have the ninth in the office.'
'The tenth w i ll not be sent to offices for some months, but I have one. Would you like to see it, perhaps?'
'Yes, very much,' said Winston, who could see where this was leading.
'You will be interested, I ' m sure. You will like the smaller number of verbs. Shall I send someone to you with the Dictionary? But I always forget that kind of thing. Perhaps you could collect it from my flat at a convenient time? Wait. Let me give you my address.'
They were standing in front of a telescreen which could see what he was writing. He •wrote an address in a notebook, pulled out the page and gave it to Winston.
'I am usually at home in the evenings,' he said. ' I f not, my servant will give you the Dictionary.'
And then he was gone.
•
They had done it, they had done it at last!
The room was long, carpeted and softly lit; the sound from the telescreen was low. At the far end of the room O'Brien was sitting under a lamp with papers on either side of him. He did not look up when the servant showed Winston and Julia in.
Winston's heart was beating fast. It was dangerous to arrive with Julia, although they had met only outside O'Brien's flat.
And although O'Brien had invited him, he was still afraid of the black-uniformed guards in this enormous building with its strange smells of good food and tobacco. But the guards had not ordered him out.
O'Brien continued to work and did not look pleased at the visit. It seemed quite possible to Winston that he had just made a stupid mistake. He could not even pretend that he had come only to borrow the Dictionary - if he had, why was Julia here?
O'Brien got up slowly from his chair and came towards them across the thick carpet. He pressed a switch on the wall and the voice from the telescreen stopped.
Julia gave a small cry of surprise and without thinking Winston said,'You can turn it off!'
'Yes,' said O'Brien. 'We can turn it off. We in the Inner Party are allowed to do that.'
Nobody spoke. Without the voice from the telescreen the room was completely silent. Then O'Brien smiled.
'Shall I say it or will you?' he said.
'7 will say it,' said Winston immediately. 'That thing is really turned off?'
'Yes. We are alone.'
Winston paused. He did not know exactly what he expected from O'Brien. Then he continued, 'We believe that there is a secret organization working against the Party and that you are part of it. We want to j o In it and work for it. We are enemies of the Party. We are lovers, and we are thoughtcriminals. And now we are in your power.'
O'Brien took a bottle and filled three glasses with dark red liquid. It reminded Winston of something he had seen a long time ago. Julia picked up her glass and smelled the liquid with great interest.
'It is called wine,' said O'Brien with a small smile. 'Not much of it gets to ordinary Party members, I ' m afraid.' His face became serious again, and he lifted his glass: 'To our Leader,' he said. 'To Emmanuel Goldstein.'
Winston lifted his glass, wide-eyed. Wine was a thing he had read and dreamed about. For some reason he always thought it tasted sweet. But it tasted of nothing. The truth was that after years of drinking gin he could taste almost nothing.
'So Goldstein is a real person?' he said.
'Yes he is, and he is alive. Where, I do not know.'
'And the Brotherhood is real, too? It was not invented by the Thought Police?'
'No, it is real. But you will never learn much more about the Brotherhood than that.' He looked at his watch. 'It is unwise even for me to turn the telescreen off for more than half an hour. It was a mistake for both of you to arrive here together, and you, Comrade,' - he looked at Julia - ' will have to leave first. We have about twenty minutes. Now, what are you prepared to do?'
'Anything that we can,' said Winston.
O'Brien had turned himself a little in his chair so that he was looking at Winston. He seemed to think that Winston could answer for Julia.
'You are willing to give your lives?'
'Yes.'
'You are willing to murder another person?'
'Yes.'
'You are willing to cause the death of hundreds of innocent people?'
'Yes.'
'If, for example, it would help us to blind a child and destroy its face — would you do that?'
'Yes.'
'Are you willing to kill yourselves, if we order you to do so?'
'Yes.'
'You are willing, the two of you, to separate and never see each other again?'
'No!' shouted Julia.
It seemed to Winston that a long time passed before he answered. 'No,' he said finally.
'You did well to tell me,' said O'Brien. 'It is necessary for us to know everything.'
O'Brien started walking up and down, one hand in the pocket of his black overalls, the other holding a cigarette.
'You understand,' he said, 'that secrets will always be kept from you. You will receive orders and you will obey them without knowing why. Later I shall send you a book by Emmanuel Goldstein. When you have read the book you will be full members of the Brotherhood. When you are finally caught you will get no help. Sometimes we are able to get a razor blade into the prison to silence someone, but you are more likely to tell them all you know — although you will not know very much. We are the dead. We are fighting for a better life for people in the future.' He stopped and looked at his watch. 'It is almost time for you to leave, Comrade,' he said to Julia. 'Wait. There is still some wine.' He filled the glasses and held up his own glass. 'What shall we drink to? To the death of Big Brother? To the future?'
'To the past,' said Winston.
'Yes, the past is more important,' said O'Brien seriously.
They finished the wine and a moment later Julia stood up to go. When she had left, Winston stood up and he and O'Brien shook hands. At the door he looked back, but O'Brien was already at his desk, doing his important work for the Party.
مشارکت کنندگان در این صفحه
تا کنون فردی در بازسازی این صفحه مشارکت نداشته است.
🖊 شما نیز می‌توانید برای مشارکت در ترجمه‌ی این صفحه یا اصلاح متن انگلیسی، به این لینک مراجعه بفرمایید.