سرفصل های مهم
فصل 06
توضیح مختصر
زمان مطالعه

20 دقیقه

سطح

متوسط
دانلود اپلیکیشن «زیبوک»
این فصل را می‌توانید به بهترین شکل و با امکانات عالی در اپلیکیشن «زیبوک» بخوانید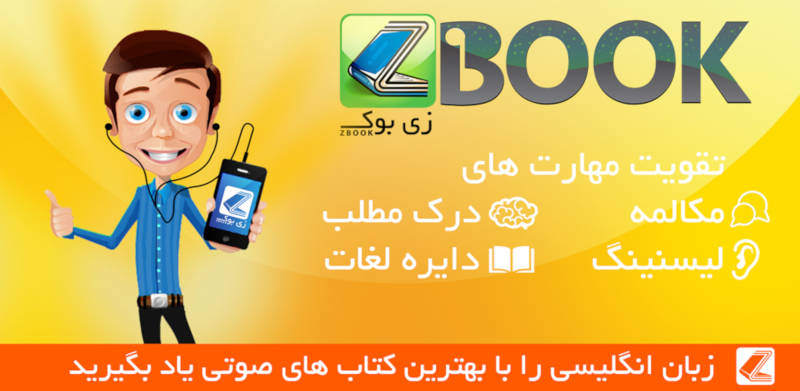 متن انگلیسی فصل
CHAPTER SIX
Breathtaking views
From the rooftop terrace of my hotel, high up above the twenty-fifth floor, the view of Rio de Janeiro was breathtaking. Like everybody else I had seen pictures, films, TV programmes and travel magazines which featured this most famed of South American holiday destinations: but nothing had prepared me for the dramatic beauty of the place. The sky was bright blue and the sun was hot on my face.
Below me I could see the long curved strip of Copacabana beach. Even from this height it was possible to make out groups of people playing volleyball, or lying on the sand, and the cars moving up and down the seafront seemed to glow with heat and excitement. Over to the right a rocky cliff rose up above the beach limiting the extent of the almost white sand, while to the left the extraordinary lump of Sugar Loaf Mountain, a great big iced-lolly of a rock, almost seemed to be smiling at me, inviting me to visit. Or perhaps that's just how it seems now, looking back. I could see a cable car hanging from the wires that snaked towards its summit.
Out here in the bright glare of the sun I still felt miserable, but already it was a different kind of misery, more immediate, more alive, like a sharp pain, with the promise of relief. There was something almost exciting about it.
On the roof of the Rio Atlantica Hotel there was a large swimming pool, poolside chairs and a bar. I had come up here last night when I had arrived and now, even though I knew I had a lot to do, I couldn't resist it. And so, an hour after breakfast, here I was, all English and white-skinned, wearing my swimming trunks, ready for a swim.
The water was warm when I dived in and for a few minutes I swam around just enjoying the luxury of it all. Not much more than twenty-four hours ago I had been sitting in my house with two English policemen asking me awkward questions on the other side of the world. Now here I was in the bright sunshine, and already some of my troubles seemed thousands of miles away. This was another world, a world without musicians and disappearances, a world where Malgosia and I…
Malgosia! How could I have forgotten her, even for a minute, even in the warmth of this exciting new place? I opened my mouth in surprise and immediately swallowed a litre of water. I started to cough and swallowed more water. I made my way to the side of the pool, coughing and spluttering.
'Are you all right?' said a cheerful, singing voice which glittered like the sun on the water.
'Yes,' I coughed, 'I'm fine,' and coughed some more.
'Here,' said the new voice, heavily accented, warm and friendly, 'let me give you a hand.'
I looked up, straight into the sun. I screwed up my eyes. There was a woman standing at the poolside.
I pulled myself out of the pool, still coughing, and flicking my wet hair out of my eyes, I looked at the person who had been talking to me. She was probably a bit younger than me, dressed in a bright green bikini, her skin tanned a dark brown, the thick, black hair falling in tight curls over her shoulders. She had the biggest smile I had ever seen.
'You'd better be careful!' she laughed. 'That white skin of yours is going to burn bright red in the sun - that is if you don't drown first!' I should have been insulted, but she sounded so cheerful that I had to laugh with her.
'I'll be careful,' I said. 'But thanks.'
'I am Sandra,' she said. 'Welcome to Rio. This is your first time?'
'In Rio?' I answered. 'Yes. I'm Derek, by the way, from England.'
'Ah, from England. Queen Elizabeth, Prince Charles, the tragic story of Princess Diana.'
'Well, there's a bit more to it than that,' I said feeling slightly defensive. 'Anyway, where are you from?'
'Me?' said Sandra. 'I am a true Carioca.'
'What's a Carioca?' I said.
'A Carioca is someone from Rio de Janeiro, the most beautiful place in the world. Don't you think?'
'It's difficult to tell,' I said. 'I haven't been to all that many places.'
'Well, anyway,' my new friend continued, 'are you going to buy me a beer?'
'Isn't it a bit early?' I answered.
'It's never too early,' Sandra replied. Anyway, you look as if you need one.'
We walked over to the bar. I was amazed at how quickly the water dried on my skin. I ordered two beers.
'So,' said Sandra, taking a sip from her bottle. Are you here on holiday?'
'Not really,' I answered, 'not on holiday.'
'So what is this? Business?' she asked.
'No,' I replied, 'it isn't business.' I stopped. I didn't quite know how to explain.
'Are you being mysterious on purpose?' said the beautiful girl beside me, sounding a little annoyed.
'No, I'm sorry, I'm not.' I said. 'It's just that, well, it's a bit difficult to explain why I am here.'
'Try me,' she said, and I suddenly realised that I knew absolutely nothing about her. It was probably just the foreign sky and the fantastic place I was in that had made me talk to her so freely in the first place.
'Look,' I protested, 'I don't know anything about you, anything at all. I know that sounds rude, but…'
'Not rude,' she laughed. 'Just rather boring. Still, if you really want to know, my brother's the manager of this hotel and so I can come here any time I want and have a swim in safety.'
'What's wrong with the sea?' I asked.
'Oh nothing, really, but Rio is not always very comfortable. There are some difficult people about. Anyway,' she went on, 'now that you know more about me you can answer my question. Why have you come to Rio?'
'I'm looking for someone,' I said.
'Wow!' she laughed. 'That sounds dramatic. Who are you looking for?'
'My wife.' It sounded so stupid, so humiliating. 'And someone else.'
'Ah,' said my friend, 'she has left you?'
'Yes. No. I don't know.' I had started now and I didn't know how to stop. And when I had told her just about everything she said nothing for a bit.
'And you really want to find her?' Sandra asked.
'Yes, of course,' I said, 'that's why I'm here.'
'Whatever the consequences?' she insisted.
'Yes, yes, of course.'
'All right,' she said, standing up as if to go, 'meet me in the lobby downstairs in fifteen minutes and I'll take you to see someone. He might be able to help you.'
---
Oswaldo Morales was a large man with gold rings on his short fingers and an expensive gold watch strapped around his large wrist. He had thin, black hair combed forward across his sweaty skull and his brightly-coloured, shortsleeved shirt was stretched tight across his large stomach. He was smoking the biggest, smelliest cigar I have ever seen and he sat behind a large wooden desk - the kind teachers used to have in their classrooms - which was covered with papers, ashtrays, three dirty coffee cups, and a telephone that must have been at least sixty years old. There were two filing cabinets on his left, with half-open drawers. An old air-conditioning machine which was completely ineffective rattled away noisily behind him.
'Sandra,' he cried, taking his feet off the desk and getting up awkwardly. 'How are you my love? How nice to see you!' He edged his way around the desk and kissed her on the cheek. 'My,' he said, 'you are looking beautiful, as always.'
'And you are looking, well, the same as usual too!' Sandra said.
'Yes, I know,' replied the fat man, 'it's terrible. But what can I do? I don't have any time for exercise, and anyway I hate it. And the only other possibility is to cut down on the amount I eat and drink and frankly, my dear, that is too terrible to think of.'
His accent was more difficult to understand than Sandra's. I wondered if they were speaking English just for my benefit.
'Anyway,' he went on, 'I suppose this is the Englishman you told me about when you rang.' He smiled at me.
'Yes, yes, that's me,' I replied. The room was very hot and the smoke made it difficult to breathe. Maybe it was the jet-lag but I was feeling rather ill.
'And you want me to find someone for you, I think?' he said, standing close. 'Your wife, I think. Is that right Mr, er…?'
'Armstrong,' I said, 'Derek Armstrong. Can you find her? I mean, are you any good?'
'Listen here, Derek Armstrong,' said the large man sounding more amused than offended, 'I can find anyone if they're in this city. It may take some time, and it may take money - though I'm not very good at collecting money as you can see - but I always get there in the end. By the way, Mr Armstrong, what do you do when you're at home?'
'I'm a musician, a viola player,' I replied.
'A musician eh? I could have been a musician too. Why I could be that Italian, what's his name, Luciano Pava-something - if I had a voice, that is,' and he slapped his stomach and laughed.
The thing I found out about Oswaldo is that when he laughed, really laughed, everybody else ended up laughing too. He was cheerful, disorganised, dangerous and really good fun to be with. Over the next few days we became firm friends, I think, though he was only one more strange person in this strange, extraordinary land I was in, a land with hidden dangers and many surprises.
'Now then,' he said, when we had all stopped laughing, 'it is time we got down to details. Why do you think your wife is in Rio de Janeiro? Perhaps she is somewhere else? Are you sure that she is in Brazil?'
'Pretty sure,' I said, and I told him about the e-mail on the computer. I told him about Tibor, about the old days when we were music students, about the stories from Poland. I told him the story of my life. I told him that my wife had disappeared and that the police had come looking for her.
When I had finished nobody said anything for a minute. Sandra lit a cigarette, adding to the unbearable fog in the hot room.
'Well, well,' Oswaldo said finally, 'and if I find your wife and this Tibor, what then?'
'I haven't the slightest idea,' I told him, 'I haven't really got that far.'
'All right. All right. But you are here. That is all I need to know. For the moment you've given me quite a lot to go on. Do you have a photo of your wife with you? That would be most helpful.'
I pulled my wallet from my back pocket and took out two small pictures of Malgosia, the kind you get in those photo booths at stations and airports.
'Will these do?'
'She is beautiful, your wife,' Oswaldo sighed dreamily.
'This is what I'll do,' he announced suddenly. 'I'll start making enquiries at the airport, and I'll talk to some of my musical contacts. Maybe this Tibor person has been involved in music here if he was a music student all those years ago. But with your English police getting all interested in your wife's movements, my nose tells me…' he tapped the end of his nose with his finger, 'that this doesn't have much to do with music at all. Still, we shall see. I will contact you in twenty-four hours when I have found out something. Now go back to your hotel. Sandra, this poor man looks as if he will pass out right here in my office and then we will have to carry him home! Take him away.'
At the door, I looked back at the large private detective. He was sitting in his chair again, leaning back, his hands behind his head, staring at the ceiling.
'So, what did you think of Oswaldo the Cuban?' Sandra asked me as we drove fast through the streets.
'Cuban?' I replied. 'I assumed he was from here.'
'Well he is, really. All the foreigners who come here, if they stay long enough, they become Cariocas too. Oswaldo is one of us now. And by the way, don't be fooled. He may look extraordinary, but he's good at his job.'
'Can I ask you a question?' I said to her as the taxi pulled up outside the hotel.
'Of course,' said my beautiful companion.
'Why are you helping me like this?' I asked her. It had been puzzling me all day.
'What, you think I am trying to pick you up? You think this is a "pull"?'
'No, no I didn't mean that,' I said, embarrassed, and wishing that I hadn't asked. 'But you've been so nice to me.'
'It's my day off. I was curious, that's all. I like, what do you say, being nosy. I enjoy talking to English-speaking people. Anyway,' she laughed, 'what makes you think you're such a good prospect anyway, one jet-lagged British man, a little sunburnt already, who's miserable because he can't find his wife. Now tell me, what's so special about that?'
We were inside the hotel lobby now, where the airconditioning worked fine.
'Look,' said Sandra, 'I can tell you're tired. Why don't you go up to your room, have a shower, go to bed and sleep for a couple of hours, then what do you say, we can go and have dinner. What do you think of that?'
'I think that's wonderful,' I said sleepily, and waving goodbye I walked over to the lift and made my way to my room.
I woke up refreshed. Looking out of the window I saw Copacabana in the evening light, and for a moment I felt happy. But only for a moment.
The telephone rang in my room and I answered it. It was Sandra waiting for me down in the lobby. When I stepped out of the lift she was there with another man, about my own age.
'This is Paul,' she said. 'A friend. I thought you'd like to have a friend, a colleague.'
'Hello,' said Paul in a recognisably British accent, which surprised me because from his brown skin and cheerful clothes I would have assumed that he was from Rio.
'Paul's one of the ones I told you about,' Sandra laughed. 'An adopted Carioca. He's been here too long. He'll probably never go back!'
'What do you do here?' I asked him as he walked towards the entrance.
'Teach English,' he said, 'I came out here on a one-year contract and I've sort of stayed.'
'You must like it here,' I told him.
'Yes and no. I mean, of course I do. It's the most exciting place I've ever lived, but it drives me crazy too.'
'Come on,' Sandra said to the two of us and we got into a taxi. Twenty minutes later we were in a cable car, swaying upwards towards the summit of Pao de Azucar - Sugar Loaf Mountain. Looking down made me feel distinctly nervous.
'Is this thing safe?' I asked.
'Of course it is, don't be such a baby!' Sandra laughed at me. 'Just think of the view you are going to have.'
She was right. From the restaurant at the top of the mountain we could see out over to Santos Dumont airport with planes taking off towards us every few minutes. For a moment it was worrying, but each time the planes turned to the left before they got to Sugar Loaf Mountain and disappeared into the night.
'The ponte aerea, air bridge,' Paul said. 'Backwards and forwards to Sao Paulo. Planes leave every fifteen minutes.'
I enjoyed that meal. The view was fantastic and the company was excellent. Sandra was beautiful and funny and Paul was good company, kind and agreeable.
'I came here because my wife left me,' he told me at one stage, 'so I suppose we have something in common. But at least she didn't just disappear, I knew where she'd gone to.'
'Was it bad? I mean difficult for you?' I asked him.
'At the time it was terrible, yes, but I got over it in the end. Time, you know. And Brazil, one of the greatest countries on earth. And people like Sandra here.'
'Are you two…?' I asked. I had been puzzled by their relationship.
'Oh no. Once, perhaps, eh Sandra?'
'We're just good friends,' Sandra said definitely.
Paul was about to say something, but then there was a ringing sound. Sandra reached into her handbag, pulled out a mobile phone and answered it.
'Don't you just hate those things?' Paul said. 'Unless they're yours, of course.' He grinned, showing me the phone strapped to his belt. 'You've got to have one of these here. I mean, apart from the classes I give at the Institute, I do private classes so I have to keep in touch with my students.'
Sandra talked briefly into the phone in Portuguese. Then she listened for a couple of minutes before pressing a little red button to switch her mobile off.
'That was Oswaldo,' she said, looking at me. 'He thinks he's found your "Tibor". He wants to know what you want to do now.'
مشارکت کنندگان در این صفحه
تا کنون فردی در بازسازی این صفحه مشارکت نداشته است.
🖊 شما نیز می‌توانید برای مشارکت در ترجمه‌ی این صفحه یا اصلاح متن انگلیسی، به این لینک مراجعه بفرمایید.