سرفصل های مهم
فصل 11
توضیح مختصر
زمان مطالعه

9 دقیقه

سطح

متوسط
دانلود اپلیکیشن «زیبوک»
این فصل را می‌توانید به بهترین شکل و با امکانات عالی در اپلیکیشن «زیبوک» بخوانید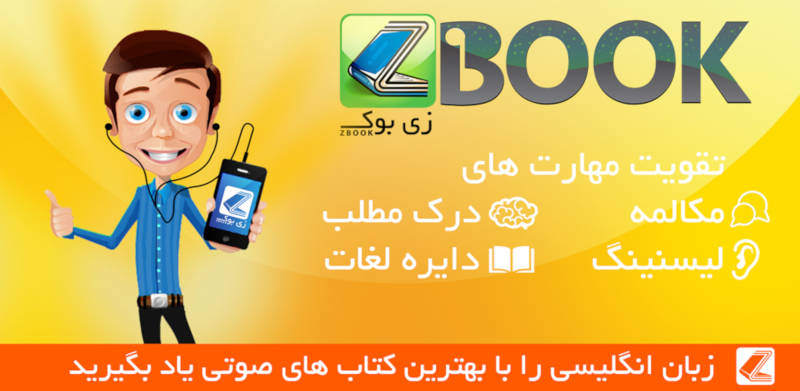 متن انگلیسی فصل
Chapter eleven
Emotional Problems
Bernard had to shout through the locked door. The Savage would not open.
'But everybody's there, waiting for you.'
'Let them wait,' came back the voice faintly through the door.
'But you know quite well, John, that I asked them on purpose to meet you.'
'You ought to have asked me first whether I wanted to meet them!
'But you always came before, John.'
'Yes, and that's exactly why I don't want to come again.' Bernard tried persuasion - not an easy thing to do when you have to shout through a locked door. 'Just to please me. Won't you come to please me?'
'No.'
'Do you seriously mean it?'
'Yes.'
'But what shall I do?' cried Bernard helplessly.
'Go to hell!' shouted the angry voice from inside.
All Bernard's attempts to get John to come out failed. In the end he had to go back to his rooms and tell all the guests who were waiting there impatiently that the Savage would not be appearing that evening. They were very angry. They felt that they had been tricked into behaving politely to this unimportant little fellow Bernard Marx with the doubtful reputation and the antisocial opinions.
Lenina alone said nothing. Pale, her blue eyes filled with an unusual sadness, she sat in a corner, separated from those around her by an emotion which they did not share. She had come to the party filled with a strange feeling, a mixture of anxiety and joy. 'In a few minutes,' she had said to herself as she entered the room, 'I shall be seeing him, talking to him, telling him' (for she had come with her mind made up) 'that I like him - more than anybody I've ever known. And then perhaps he'll say…' What would he say? The blood rushed to her cheeks. 'Why was he so strange the other night, after the cinema? So odd. And yet I'm absolutely sure he does rather like me. I'm sure…'
It was at this moment that Bernard had made his statement. The Savage wasn't coming to the party.
Lenina was filled with a terrible feeling of disappointment and emptiness. Her heart seemed to stop beating.
'Perhaps it's because he doesn't like me,' she said to herself. And at once this possibility grew in her mind into a certainty. John had refused to come because he didn't like her. He didn't like her.
All around her the other guests were angrily discussing the Savage's refusal to meet them and blaming Bernard for all that had gone wrong. Very soon they took their leave, one after the other.
Lenina, the last to go, walked sadly out of the room. Bernard was left there all alone. Overcome with unhappiness and disappointment he dropped into a chair and, covering his face with his hands, he began to cry.
Upstairs in his room the Savage was reading Romeo and Juliet. Next morning Bernard could not hide from the Savage how unhappy he felt. The Savage showed himself sympathetic, an attitude that Bernard had not expected. 'You're more like what you were at Malpais,' he said when Bernard had told him all his sorrows. 'Do you remember when we first talked together? Outside the little house. You're like what you were then.'
'Because I am unhappy again. That's why.'
'Well, I'd rather be unhappy than have the false, lying happiness that you were having here.'
'I'm surprised at you, saying that,' said Bernard bitterly, 'when it's you who were the cause of it all. Refusing to come to my party and turning them all against me!' He knew that what he was saying was unjust. He admitted to himself the truth of all that the Savage now said about the worthlessness of friends who could be turned by such slight causes into cruel enemies. But Bernard continued to feel a secret anger with the Savage in spite of the real affection that he had for him.
Bernard's other friend was Helmholtz Watson, suffering like himself because of his individual, non-conditioned ideas. Helmholtz had been officially warned that some verses that he had written and read out to a class of students at the College of Emotional Engineering were dangerous and must not be repeated. The verses were in praise of silence, of the state of being alone and able to enjoy one's own thoughts and feelings. The students had reported him to the Principal. 'I'm not surprised,' said Bernard. 'It's quite against all their sleep-teaching. Remember, they've had at least a quarter of a million warnings against wanting to be alone.'
'I know. But I thought I'd like to see what the effect would be.'
'Well, you've seen now.'
Helmholtz laughed. 'I feel,' he said after a silence, 'as though I were just beginning to have something to write about. As though I were just beginning to use that secret power that I've got inside me. Something seems to be coming to me.' In spite of all his troubles he seemed, Bernard thought, deeply happy.
Helmholtz and the Savage formed a liking for each other at once.
Helmholtz read out the verses that had caused him to be warned by the Principal. The Savage replied by reading some lines from his old book that excited Helmholtz as he had never been excited before in his life; but Helmholtz simply could not understand the story of Romeo and Juliet when John read out the play to him with deep emotion (seeing himself all the time as Romeo and Lenina as Juliet). Helmholtz shouted with laughter at the idea of a father and mother (disgusting words anyway) forcing the daughter to have someone she didn't want! And the stupid girl not saying that she was having someone else whom (for the moment, at any rate) she preferred. The situation was so dirty and at the same time so funny that Helmholtz laughed till the tears ran down his face in streams. The Savage looked at him angrily, closed his book, got up from his chair and locked it away in its drawer.
'And yet,' said Helmholtz when, having got back breath enough to apologize, he managed to persuade the Savage to listen to his explanations, 'I know quite well that one needs mad, impossible situations like that. One can't write really well about anything else. Why was the old fellow such a wonderful propaganda writer? Because he had so many really strong feelings, so many strange ideas to get excited about. You've got to be hurt and upset. Otherwise you can't think of the really good phrases, those that strike at the mind and the heart and live in the memory. But fathers and mothers! You can't expect me to be serious about fathers and mothers. And who's going to get excited about a boy having a girl or not having her?' (The Savage looked offended, but Helmholtz, who was looking thoughtfully at the door, saw nothing.) 'No,' he decided, 'it won't do. We need some other kind of madness, some other kind of emotion to take possession of our minds and become the master of our imagination. But what? Where can I find it?' He was silent. Then, shaking his head, 'I don't know, 'he said at last, 'I don't know.'
مشارکت کنندگان در این صفحه
تا کنون فردی در بازسازی این صفحه مشارکت نداشته است.
🖊 شما نیز می‌توانید برای مشارکت در ترجمه‌ی این صفحه یا اصلاح متن انگلیسی، به این لینک مراجعه بفرمایید.