سرفصل های مهم
فصل 15
توضیح مختصر
زمان مطالعه

19 دقیقه

سطح

خیلی سخت
دانلود اپلیکیشن «زیبوک»
این فصل را می‌توانید به بهترین شکل و با امکانات عالی در اپلیکیشن «زیبوک» بخوانید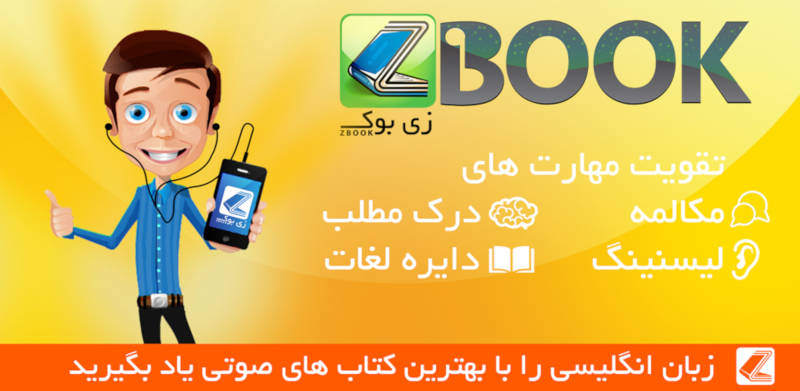 متن انگلیسی فصل
Chapter fifteen
In the Service of Happiness
The room into which the three were shown was the Controller's study.
'His fordship will be down in a moment.' The Gamma manservant left them to themselves.
Helmholtz laughed out loud.
'It's more like a social gathering than a trial,' he said, and let himself fall into the most comfortable of the armchairs.
'Cheer up, Bernard,' he added, catching sight of his friend's pale, unhappy face. But Bernard would not be cheered. Without answering, without even looking at Helmholtz, he went and sat down on the most uncomfortable chair in the room, carefully chosen with some confused hope of turning away from him the anger of the higher powers.
The Savage meanwhile wandered restlessly round the room, looking without much interest at the books on the shelves, at the soundtrack rolls and the reading-machine films in their numbered places. On the table under the window lay a large volume bound in soft black artificial leather and stamped with large golden Ts. He picked it up and opened it. My Life And Work by Our Ford. The book had been published in Detroit by the Society for the Spread of Fordian Knowledge. He turned the pages slowly, read a sentence here, a paragraph there, and had just decided that the book didn't interest him, when the door opened and the World Controller for Western Europe walked quickly into the room.
Mustapha Mond shook hands with all three of them, but it was to the Savage that he addressed himself. 'So you don't much like civilization, Mr Savage,' he said.
The Savage looked at him. He had been prepared to lie, to argue, to remain rude and silent; but, encouraged by the good- humoured intelligence of the Controller's face, he decided to tell the truth, quite frankly. 'No.' He shook his head.
Bernard jumped and looked alarmed. What would the Controller think? To be identified as the friend of a man who said that he didn't like civilization, said it openly and, of all people, to the Controller. It was terrible. 'But, John,' he began. A look from Mustapha Mond reduced him to a frightened silence.
'Of course,' the Savage went on to admit, 'there are some very nice things. All that music in the air, for instance…'
'Sometimes a thousand twanging instruments will hum about my ears, and sometimes voices.'
The Savages face lit up with a sudden pleasure. 'Have you read The Tempest too?' he asked. 'I thought nobody knew about those plays here, in England.'
'Almost nobody. I'm one of the very few. It's forbidden, you see. But as I make the laws here, I can also break them. Without being punished, Mr Marx,' he added, turning to Bernard. 'Which I'm afraid you can't do.'
Bernard sank into a hopeless unhappiness.
'But why is it forbidden?' asked the Savage. In the excitement of meeting a man who had read Shakespeare he had for the moment forgotten everything else.
The Controller looked at him evenly. 'Because it's old. That's the main reason. We haven't any use for old things here.'
'Even when they're beautiful?'
'Particularly when they're beautiful. Beauty's attractive, and we don't want people to be attracted by old things. We want them to like the new ones.'
'But the new ones are so stupid and horrible. Those plays, where there's nothing but helicopters flying about and people kissing all the time.' He made a face. 'Goats and monkeys!' Only in Othello's words could he find satisfactory expression for his feelings of hatred.
'Nice animals, anyhow,' said the Controller almost to himself.
'Why don't you let them see Othello instead?'
'I've told you. It's old. Besides, they couldn't understand it.' Yes. that was true. He remembered how Helmholtz had laughed at Romeo and Juliet. 'Well, then,' he said, after a pause, 'something new that's like Othello, and that they could understand. Do you see what I mean?'
'That's what we've all been wanting to write,' said Helmholtz, breaking a long silence.
'And it's what you never will write,' said the Controller. 'Because, if it were really like Othello, nobody could understand it, however new it might be. And if it were new, it couldn't possibly be like Othello. ' 'Why not?'
'Yes, why not?' Helmholtz repeated. He too was forgetting the unpleasant realities of the situation. Only Bernard, pale with fear and anxiety about the future, remembered them. The others took no notice of him. 'Why not?'
'Because our world is not Othello's world. You can't write sad stories where there is no unhappiness. The world's peaceful now. People are happy. They get what they want, and they never want what they can't get. They're well off. They're safe. They're never ill. They're not afraid of death. They know nothing of passion and old age. They don't have to worry about mothers and fathers. They've got no wives, or children, or loved ones to feel strongly about. They're so conditioned that they practically can't help behaving as they ought to behave. And if anything should go wrong, there's soma. Which you go and throw out of the window in the name of freedom, Mr Savage. Freedom!' He laughed. 'Expecting Deltas to know what freedom is! And now expecting them to understand Othello! How can you have such an ideal'
The Savage was silent for a while. 'All the same,' he went on, sticking to his argument, 'Othello's good. Othello's better than those films.'
'Of course it is,' the Controller agreed. 'But that's the price we have to pay for stability. You've got to choose between happiness and what people used to call high art. We've given up the high art. We have the love films instead.'
'But they don't mean anything.'
'They mean themselves. They mean a lot of good feelings to the audience.'
'But they're…they're written by stupid people.'
The Controller laughed. 'You're not being very polite to your friend Mr Watson. One of our most distinguished Emotional Engineers.'
'But he's right,' said Helmholtz, clearly upset. 'Because it is stupid. Writing when there's nothing to say.'
'Exactly. But that demands the greatest skill - making something out of practically nothing.'
The Savage shook his head. 'It all seems to me quite horrible.'
'Of course it does. Happiness is never as exciting as unhappiness or the struggles of great passions. Happiness is never grand.'
'I suppose not,' said the Savage after a silence. 'But need it be as bad as those twins?' He remembered all those long lines of ugly little twins waiting for their soma, smiling round Linda's deathbed, attacking him in a crowd with one face endlessly repeated. He looked at his bitten hand and trembled. 'Horrible!'
'But how useful. I see you don't like our Bokanovsky Groups; but I assure you they're the foundation on which everything else is built. They provide the stability on which the whole social organization depends.'
'I was wondering,' said the Savage, 'why you had them at all, since you can get whatever you want out of those bottles. Why don't you make everybody an Alpha Double-Plus?'
Mustapha Mond laughed. 'Because we have no wish to have our throats cut,' he answered. 'We believe in happiness and stability. A society of Alphas couldn't fail to be restless and unhappy. An Alpha would go mad if he had to do Epsilon work - or start destroying things. Only an Epsilon can be expected to make Epsilon sacrifices, for the good reason that for him they aren't sacrifices. His conditioning has determined the life he has got to live. He can't help himself.'
The Savage was silent.
'The ideal population,' said Mustapha Mond, 'is like an iceberg - eight-ninths below the waterline, one-ninth above.'
'And they're happy below the waterline?'
'Happier than above it. Happier than your friends here, for example.' He pointed.
'In spite of that awful work?'
'Awful? They don't find it so. Quite the opposite, they like it. It's light, it's childishly simple. No strain on the mind or the muscles. Seven and a half hours of gentle labour, without too much bodily effort, and then the soma distribution and games and other amusements provided for them. What more can they ask for? True,' he added, 'they might ask for shorter hours, but would they be any the happier for that? No, they wouldn't. The experiment was tried, more than a century and a half ago. The whole of Ireland was put on to the four-hour day. What was the result? Unrest and a large increase in the amount of soma taken. The Inventions Office is full of plans for labour-saving processes. Thousands of them.' Mustapha Mond waved his arms as if to give an idea of the great pile of plans. 'And why don't we use them? For the sake of the workers. It would be cruelty to give them too much leisure. It's the same with agriculture. We could produce every mouthful of food artificially, if we wanted to. But we don't. We prefer to keep a third of the population on the land. For their own sakes, because it takes longer to get food out of the land than out of a factory. Besides, we have our stability to think of. We don't want to change. Every change is a threat to stability. That's another reason why we're so careful about using new inventions. Every discovery in pure science could lead to a revolution. Even science must sometimes be treated as a possible enemy. Yes, even science.'
'What?' said Helmholtz in amazement, 'But we're always teaching people that science is everything. That comes in sleep-teaching.'
'Three times a week between seven and thirteen,' added Bernard.
'And all the science propaganda we do at the College…'
'Yes, but what sort of science?' asked Mustapha Mond. 'You've had no scientific training, so you can't judge. I was a pretty good scientist in my time. Too good - enough to realize that all our science is just a cookery book, with an official theory of cooking that nobody's allowed to question and a list of recipes that mustn't be added to except by special permission from the head cook. I'm the head cook now. But I was once a young kitchen boy with a taste for finding things out. I started doing a bit of cooking on my own. Unofficial cooking, unlawful cooking. A bit of real science, in fact.' He was silent.
'What happened?' asked Helmholtz Watson.
The controller breathed deeply.
'Very nearly what's going to happen to you young men. I was on the point of being sent to an island.'
Bernard started at these words. 'Send me to an island?' He jumped up, ran across the room, and stood waving his arms in front of the Controller. 'You can't send me. I haven't done anything. It was the others. I tell you it was the others.' He pointed with an accusing finger to Helmholz and the Savage. 'Oh, please don't send me to Iceland. I promise I'll do what I ought to do. Give me another chance. Please give me another chance.' The tears began to fall. 'I tell you it's their fault,' he cried. 'And not to Iceland. Oh, please, your fordship, please…' and in a fit of hopelessness he threw himself on his knees before the Controller. Mustapha Mond tried to make him get up, but he stayed there, crying and protesting.
In the end the Controller had to ring for his fourth secretary.
'Bring three men,' he ordered, 'and take Mr Marx into a bedroom. Give him some soma and then put him to bed.'
The secretary went out and returned with three twin attendants in green uniforms. Still shouting and crying, Bernard was carried out.
'One would think he was going to have his throat cut,' said the Controller, as the door closed. 'If he had any sense, he'd realize that his punishment is really a reward. That's to say, he's being sent to a place where he'll meet the most interesting set of men and women to be found anywhere in the world. All the people who, for one reason or another, are too individual to fit into community life. All the people who aren't content to be the same as the others, who've got independent ideas of their own. Everyone, in a word, who's anyone. I almost wish it were me, Mr Watson.'
Helmholtz laughed. 'Then why aren't you on an island yourself?'
'Because, finally, I preferred this. I was given the choice; to be sent to an island, where I could have got on with my scientific work, or to be taken on to the Controller's Council with the certainty of myself becoming a Controller. I chose this and let the science go. I've gone on controlling ever since. It hasn't been very good for truth, of course. But it's been very good for happiness. Happiness has got to be paid for. You're paying for it, Mr Watson - paying because you happen to be too much interested in beauty. I was too much interested in truth. I paid too.'
'But you didn't go to an island,' said the Savage after a long silence.
The Controller smiled. 'That's how I paid. By choosing to serve happiness. Other people's, not mine. It's lucky,' he added, after a pause, 'that there are such a lot of islands in the world. I don't know what we should do without them. Put you all in the gas chamber, I suppose. By the way, Mr Watson, would you like a tropical climate, or something that will keep you more lively?' Helmholtz rose from his armchair. 'I should like a thoroughly bad climate,' he answered. 'I believe one would write better if the climate were bad. If there were a lot of wind and storms, for example.'
The Controller nodded his approval. 'I like your spirit, Mr Watson. I like it very much indeed. As much as I officially disapprove of it.' He smiled. 'What about the Falkland Islands?'
'Yes, I think that will do,' Helmholtz answered. 'And now, if you don't mind, I'll go and see how poor Bernard's getting on.'
مشارکت کنندگان در این صفحه
تا کنون فردی در بازسازی این صفحه مشارکت نداشته است.
🖊 شما نیز می‌توانید برای مشارکت در ترجمه‌ی این صفحه یا اصلاح متن انگلیسی، به این لینک مراجعه بفرمایید.