سرفصل های مهم
دویدم و دویدم و دویدم
توضیح مختصر
زمان مطالعه

6 دقیقه

سطح

سخت
دانلود اپلیکیشن «زیبوک»
این فصل را می‌توانید به بهترین شکل و با امکانات عالی در اپلیکیشن «زیبوک» بخوانید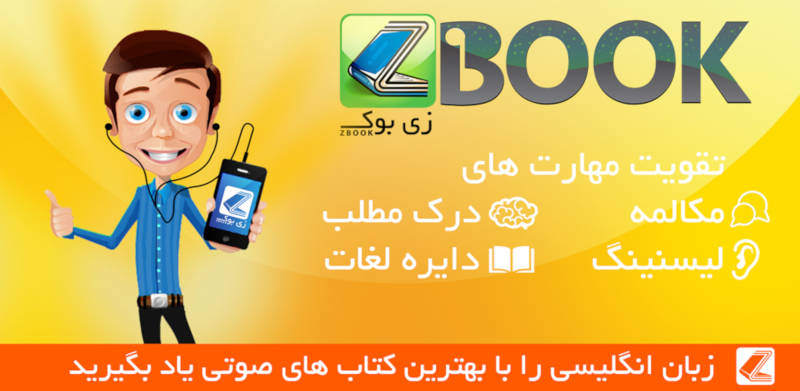 متن انگلیسی فصل
I Ran and I Ran and I Ran
In 1977, the Shah and his wife were scheduled to come to America to meet the newly elected president, Jimmy Carter. Very few Iranians lived in America then, and those of us who did were invited to go to Washington, D.C., to welcome the Shah. The Iranian government would cover all expenses.
My father accepted the invitation. My brothers reacted with a few choice words.
"Are you completely crazy?"
"Haven't you heard about the anti-Shah demonstrators?"
"You'll definitely get beaten up."
"Don't go."
My brothers clearly did not understand the lure of the phrase "all-expense-paid trip."
A few weeks later, drinking fresh-squeezed orange juice in our first-class seats, my parents and I looked forward to our first visit to the nation's capital. During our three-night stay, we were supposed to show up at two events welcoming the Shah. The rest of the time was our own. My father had promised to take me to at least one museum. My mother looked forward to seeing the famous sights.
We arrived at our hotel to find the lobby full of Iranians. Unaccustomed to seeing so many of our fellow countrymen in one place, my parents started mingling feverishly, discovering friends of friends and long-forgotten colleagues. As we went to find our room, we felt like a bunch of kids on a field trip.
A fruit basket would have been nice, but instead we found that a flyer had been slipped under the door.
Dear Brainwashed Cowards,
You are nothing but puppets of the corrupt Shah. We will teach you a lesson you will never forget. Death to the Shah. Death to you.
My father crumpled the flyer and threw it away. "Let's find out where they're having the dinner buffet," he said.
The next day, half a dozen buses lined up in front of our hotel to take us to the lawn across from the White House. We were given Iranian flags and told to wave them at the Shah's arrival. Moments before we left, a man boarded our bus and introduced himself as a lawyer working for the Iranian government. "In case anybody attacks you," he told us, "please try to take his picture. This would be most useful." We arrived at the White House to find a group of masked demonstrators carrying signs denouncing the Shah and his government. "Don't worry," my father assured me, "they're on the other side of the street." Opposite the demonstrators, scaffolding had been built for the Shah's supporters. Speakers took turns giving speeches on the glories of Iran. To my delight, I found that the lawn had been strewn with miniature Iranian flags. "Help me find thirty of them," I asked my parents. "I'm going to hand them out in Miss Crocket's social studies class." My mother and I headed toward the back of the lawn, while my father went to the front to look for more flags. A few minutes later, we heard my father say, "Look how many I found!" He held up his bounty. But his voice was drowned out by the twenty-one-gun salute announcing the arrival of the Shah's limousine. People started to cheer, but the cheering wasn't entirely cheerful. The demonstrators had crossed the road. They were stampeding toward us waving sticks with nails driven into them. People were screaming and running. Instead of Iranian flags, the lawn was suddenly covered with bloody and injured Iranians. My parents and I ran and ran and ran.
We found an empty bus and, not caring about its destination, climbed on board.
"I'm sorry, folks," the bus driver drawled, "y'all are gonna hafta get off this bus, 'cuz it's outta service and I'm on break." Across the street, we found a police officer on horseback. "Excuse me," I said, "we're afraid we're going to get beaten up. Could you please help us get back to our hotel?" Perhaps this officer had joined the police force because of the handsome uniforms or perhaps he wanted a job that let him ride a horse. He looked at us and said, "Sorry, that's not my job." Spotting another bus, we boarded it immediately. "Do you have tickets?" the driver asked.
"How much are they?"
We paid twenty-one dollars and took our seats just as the bus started to leave. We had no idea where we were going. A recorded narration began.
"Our next stop is the Lincoln Memorial, built in honor of Abraham Lincoln, the sixteenth president of the United States. On the north wall of this majestic memorial, you will see the words of the Gettysburg Address: 'Four score and seven years ago our fathers brought forth …'" Three hours, four monuments, and one cab ride later, we arrived at our hotel. The lobby was filled with bandaged survivors exchanging horror stories. At the sight of all the wounded, my father turned to my mother and me and said, "Don't mention we went on a tour. It's going to look bad that we were having fun while everyone else was suffering." Before I could tell my father that the tour had not been fun, he was accosted by a friend, whose arm was now in a sling.
"Where have you three been the whole time? We were getting ready to call the hospitals."
"Well," my father sighed, "we had to walk back."
Like a story written in installments, a second flyer awaited us in our room.
Dear Brainwashed Cowards,
We are going to blow you up.
Even the prospect of the dinner buffet was no longer enough to keep us in the nation's capital. "That's it," my father announced. "We're leaving." Six hours later, we found ourselves in the coach section of a crowded airplane, sitting in three different rows. We were thrilled to be headed home.
As the airplane took off, my father turned around and shouted from four rows ahead of me, "That really wasn't that bad. Firoozeh, you know how you like historical places? Well, we saw a bunch." He continued, "Of course, I do have one regret."
"What's that?" I yelled back.
"I shouldn't have dropped all the flags. I'm sure I had enough for your whole class."
"That's okay," I replied. "We can always go back."
مشارکت کنندگان در این صفحه
ویرایشگران این صفحه به ترتیب درصد مشارکت:
🖊 شما نیز می‌توانید برای مشارکت در ترجمه‌ی این صفحه یا اصلاح متن انگلیسی، به این لینک مراجعه بفرمایید.