سرفصل های مهم
فصل 13
توضیح مختصر
زمان مطالعه

10 دقیقه

سطح

ساده
دانلود اپلیکیشن «زیبوک»
این فصل را می‌توانید به بهترین شکل و با امکانات عالی در اپلیکیشن «زیبوک» بخوانید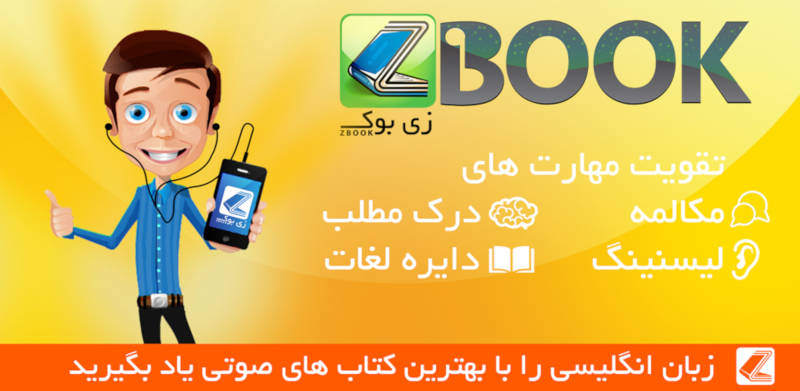 متن انگلیسی فصل
CHAPTER THIRTEEN
Coloured White
Mum squeezes my shoulder. 'Never mind, dear,' she says. 'Anyway, I don't think Diana's interested in him, do you?'
Over the sound of the music we hear Brad asking Diana if she wants to look at his paintings.
'No thank you,' she says. 'I'm not really interested in art. I prefer stories. I'm looking forward to reading Alex's story. She's a children's writer, did you know?'
Good old Di!
My mother goes over to them. 'I'd like to see your paintings, Brad,' she says. 'Very much indeed.'
But Brad doesn't look very happy with this idea. 'Oh, would you, Mrs… er, Willow?' he says.
'Well, do please go and look. The studio's at the top of the stairs on the left.'
And off Mum goes, looking a little annoyed that Brad doesn't want to show his pictures to her himself.
A loud song is playing on the stereo, and I can't hear what Brad and Di are saying any longer. I'm just about to get up and go for a walk, or do anything that takes me away from Brad, when Barry comes in.
'Has the party got going yet?' he asks, sitting on the arm of my chair.
'It has for some people,' I say, looking at Di and Brad.
Barry looks at them too. Then he looks at me. 'Your mum's keeping Christopher happy upstairs,' he says. 'Do you feel like going for a short walk with me?'
But at that moment Diana breaks away from Brad. 'Come on, you two,' she says. 'This is supposed to be a party! Let's have some dancing!'
I must tell you I've never felt less like dancing in all my life. Yet somehow, there I am, with the rest of them, moving my body to the music. Brad doesn't look as if he wants to dance either. Actually, he isn't very good at it. It's quite surprising actually, the way he looks so… well, unnatural is as good a way of describing it as any. He doesn't seem to have a sense of rhythm at all. Whereas Barry's always been a really good dancer, much better than I am.
'Do you mind if I borrow Barry for a salsa?' Diana asks me when a South American song starts playing, and I shake my head.
'Of course not.'
Brad and I stand and watch. If you've ever seen a couple salsa dancing, you'll know how close the man and woman's bodies get to each other. They touch almost all the time. In fact, sometimes salsa dancing can look a lot like… making love.
'I'm not sure you should have agreed to that,' Brad tells me. 'I think your friend's trying to steal your boyfriend.'
'Of course she isn't!' I say, but suddenly, watching Di and Barry together, I feel really… well, strange. And somehow I can't help remembering how they were laughing together in the kitchen earlier on.
'Perhaps we should make them jealous,' Brad suggests, and next thing I know, he's taken me into his arms and he's bending his head and… he's kissing me!
After that, everything happens at once. Barry and Diana stop dancing. Somebody rings on the doorbell. I push Brad away from me so hard he almost falls over. Mum comes into the room. (She appears to be wearing some sort of strange paper hat. It looks as if it might be made from one of Brad's drawings from the studio.) Then Christopher rushes in. He's holding something. A picture. 'Look!' he says. 'I've painted a picture of the Christmas tree!'
The doorbell rings again, but the sound is drowned by Brad's cry. 'My painting!' he screams. 'My white painting! Christopher! What have you done?'
'Oh,' says my mother. 'I gave him that to paint on. Sorry, did I do something wrong? It didn't look as if there was anything on it.'
There is a long silence, broken only by the ringing of the doorbell. Then suddenly I hear someone laughing. I don't realise at first that it's me.
'm sorry. Oh, I'm so sorry, Brad,' I say, but it's no good, I can't help it. You see, the white picture looks so much better with a little bit of colour on it. Bright Christmassy colour.
Brad looks at me as if he hates me. 'Alex,' he says, 'as of this moment you are no longer an employee of the Courtney Art Gallery. I suggest you leave at once. And you can take your family and friends with you!'
And suddenly everyone's laughing. Everyone: me, Barry, Di, Mum and even Christopher. In fact the only person not laughing is Brad.
'Come on,' says Barry through his laughter, 'I think we'd better go.'
The doorbell's still ringing. When we open the door, we find three people waiting outside: a man, a woman, and… Tania.
'Mummy!' shouts Christopher. 'Daddy!' And the man pushes past Tania to pick up his son and lift him high into the air.
'Hello, son!' he says. 'Wow, look at that Christmas tree! It's almost as big as the one we've got at home waiting for you to decorate!'
When Christopher comes back down to earth we all crowd round him in a big happy group. Somehow Tania manages to push her way past us.
'Brad,' she says, 'who are all these horrible people?'
We all leave soon after that. Christopher goes home with his parents, Diana gives my mother a lift back to Rottingdean, and I… well, I go with Barry.
At first we're rather quiet with each other. I think we both feel a little shy. Either that, or we both know that whatever we say to each other in the next hour or so is really important.
Finally, Barry looks at me. 'Do you feel like going for a walk?' he asks, and I nod.
'Yes, I'd like that.'
'We could go up Firle Beacon, if you're wearing the right shoes for it?'
We both look down at my unsuitable shoes. 'These are fine,' I say.
'There might be mud,' Barry says doubtfully.
'It's OK,' I say. The fact is, I just want to be with Barry. In rain, in mud. Anywhere. I know you might find that difficult to believe after all I've said about him, but it's true.
You see, when I saw Barry and Di dancing like that, it did feel really strange. Oh, I know it was only a dance to them, but it did make me think. For the first time I thought about what it would be like if I didn't see Barry any more. What it would be like if he got a new girlfriend. It wasn't a pleasant thought at all. And suddenly I knew why I'd never managed to tell Barry it was over between us. I hadn't really wanted it to be over.
'For a moment there, I thought you were attracted to Brad,' Barry says as we walk along a path through the mud.
'No!' I say, taking his hand, and, strange as it sounds, it isn't a lie. Honestly!
I know I've wanted Brad to kiss me for weeks. I know I said I wanted to marry him and have his babies. But the fact is, when he kissed me… nothing happened. I didn't feel anything. Not one thing.
Diana was right. I had a crush on Brad. I was attracted to him because of his good looks, and I thought that meant I was in love with him. But the truth is, I didn't know him at all. These last few days I've had the chance to get to know him much better, and… well, I now realise I've never seen him properly. In my mind, I made Brad into the type of person I wanted him to be. But that Brad never really existed.
Brad's never been interested in me. He's not even very interested in his nephew. Brad is only interested in Brad. In fact, he's really rather shallow.
'Oh, Alex,' Barry says suddenly, 'look at your legs!'
I look down at myself. I'm covered in mud. It isn't only on my legs, but all over my clothes too. 'It doesn't matter,' I say.
Barry laughs, putting his arm around me. 'No,' he says, 'it doesn't, does it?'
مشارکت کنندگان در این صفحه
تا کنون فردی در بازسازی این صفحه مشارکت نداشته است.
🖊 شما نیز می‌توانید برای مشارکت در ترجمه‌ی این صفحه یا اصلاح متن انگلیسی، به این لینک مراجعه بفرمایید.