سرفصل های مهم
من هوایت را خواهم داشت
توضیح مختصر
زمان مطالعه

7 دقیقه

سطح

ساده
دانلود اپلیکیشن «زیبوک»
این درس را می‌توانید به بهترین شکل و با امکانات عالی در اپلیکیشن «زیبوک» بخوانید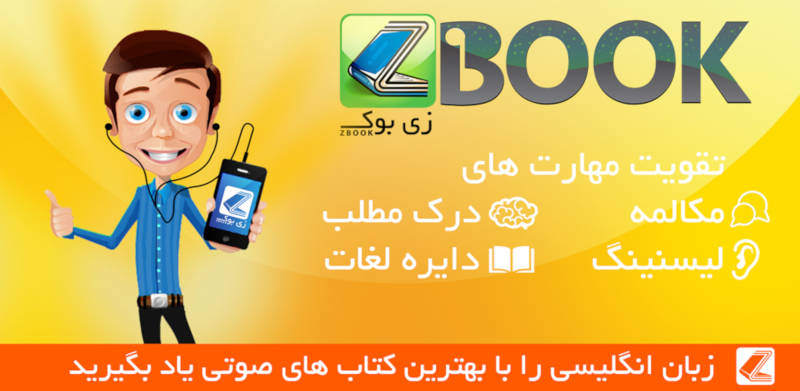 متن انگلیسی درس
Chapter 9 "I'll look after you"
The young soldier walked slowly toward the fire. He was still afraid of his comrades' questions. He thought about hiding in the forest, but he was too tired. Suddenly, he saw a big, black shadow in front of him. It was pointing a rifle at him. "Stop!" called a nervous voice.
Henry stopped in surprise. "Hello. Wilson," he said. "You're here."
The loud soldier came slowly forward. "Is that you, Henry?
You're alive! I'm so glad to see you!"
"Yes, it's me" said Henry. He felt weak. He had to tell his story quickly." I was lost and I couldn't find the regiment. I was far from here, on the right. There was bad fighting. It was terrible. I was shot in the head."
"Why didn't you tell me?" cried his friend, "Come here. Henry.
I'll look after you." He put his arm around Henry's shoulders.
They sat down next to the fire. Wilson looked at the wound in the firelight. He touched it carefully. "That's it," he said. "A bullet just touched you on the side or the head. It looks like somebody hit you with a stick. You'll be all right, but its going to hurt tomorrow morning. Wait here. I'll come back in a minute." Wilson left Henry by the fire. Henry looked around and saw soldiers lying asleep everywhere. They talked in their sleep, and changed from one position to another. An officer was sleeping with his back against a tree. His sword was still in his hand.
Wilson returned with water and coffee. "Here, drink this," he said. The coffee was cold and delicious in Henry's mouth.
Wilson wet a cloth and tied it carefully around Henry's head.
Henry looked at him gratefully The cloth was cold on his aching head. "You're a good man, Henry," Wilson said. "Most people scream when they're hurt. But you didn't make a sound." Henry looked at the ground, saying nothing. "Now lie down and sleep." said Wilson.
Henry lilted his head weakly. "But this is your bed." he said.
"Where will you sleep?"
"Go to sleep!" ordered Wilson. "I'll be all right." The young soldier was already asleep, sate and warm.
He woke up before the sun came up. He was cold and wet. His comrades still slept on the ground like dead men. Wilson was putting more wood onto the fire. "How are you feeling. Henry?" he asked kindly. "Let's see your head." He lifted up the piece of cloth.
"He careful!" said Henry sharply. "You're hurting me!" "Come and have something to cat now." said Wilson patiently.
"Then you'll feel better." He brought Henry some coffee, and he quickly cooked some meat over the fire. He sat down and happily watched Henry eat.
Henry was looking at Wilson too. "What happened to him?" he asked himself. " He's changed. Before, he was angry all the time, and he was so proud of himself. Now he's calm. I'm glad that he's changed."
Wilson was thinking about the next battle. "Do you think we'll beat them?" he asked Henry.
The young soldier thought for a minute, then laughed. "Two days ago. you wanted to beat the enemy army alone!" Wilson looked a little surprised. "Did I?" he asked. "I guess I was stupid then. Maybe I've changed. The officers say we're beating them."
"I don't know about that," the young soldier replied.
"Yesterday I thought they were beating us." Henry suddenly remembered something. "Jim Conklin's dead. He was shot in the side."
Wilson looked at him in surprise. "No! Poor old Jim!" He looked silently into the fire.
There were other small fires all around them. Groups of men sat drinking coffee and talking. One man stood up suddenly and dropped a cup of hot coffee. It tell on another mans knee. There was loud shouting and cursing.
'There's going to be a fight!" said Wilson. "I'm going to stop them." He went to the angry men. "Now, boys," he said quietly.
"Don't fight, fight against the enemy, not against your friends!" All three men were talking excitedly and waving their arms.
Finally, the two men sat down and Wilson came back. "I have to tight one of them after the battle." he said calmly. "He didn't like what I said."
The young soldier laughed. "You've really changed," he said.
Wilson didn't reply. Re was thinking. Finally, he spoke. "You know, we lost over half the men yesterday. But they weren't all dead. They were lost, that's all. They were fighting with other regiments. Just like you." The young soldier said nothing.
Soon the regiment was standing on the road. They were waiting for the order to march. Henry put his hand into his pocket.
"What's that?" he asked himself. He pulled out a yellow envelope. Then he remembered. "Wilson's letters," he thought in surprise. He almost spoke to Wilson, but he changed his mind.
He decided to wait-"Wilson was scared when he gave me those letters," he thought. "If he asks me any questions, I'll talk about the letters. He'll remember his fear, then he'll stop asking questions." He felt a little sorry for his friend. "Poor old Wilson," he thought, "crying like a baby."
He thought about what happened the day before. He forgot his own fears. He was really quite pleased with himself "I ran away from the battle, but nobody knows about it," he thought. "And I did it for a good reason. The other men ran away because they were afraid. I ran away because 1 was smart."
He wasn't worried about the future." I can do the same thing again if I have to." he told himself. "With a little luck, nobody will know." Now he felt sorry for his comrades. They didn't understand.
Just then, Wilson spoke. "Henry."
"What?"
Wilson was looking at the ground. "I-I guess I'll take back those letters." His face was red.
Henry slowly took the envelope out of his pocket. He wanted to say something, because Wilson was so weak and afraid. Finally, he decided to be kind. "Here they are, Wilson," he said. As he watched his friend suffer, he felt even stronger and braver.
مشارکت کنندگان در این صفحه
تا کنون فردی در بازسازی این صفحه مشارکت نداشته است.
🖊 شما نیز می‌توانید برای مشارکت در ترجمه‌ی این صفحه یا اصلاح متن انگلیسی، به این لینک مراجعه بفرمایید.