سرفصل های مهم
پیام های مخلوط
توضیح مختصر
زمان مطالعه

9 دقیقه

سطح

متوسط
دانلود اپلیکیشن «زیبوک»
این درس را می‌توانید به بهترین شکل و با امکانات عالی در اپلیکیشن «زیبوک» بخوانید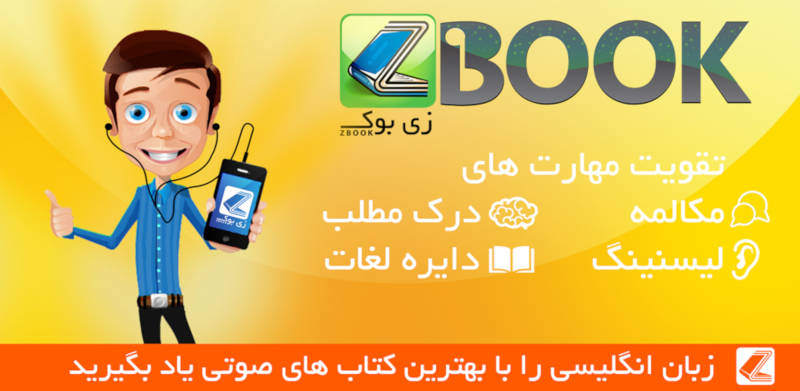 متن انگلیسی درس
Chapter 5 Mixed Messages
"Guess what I have," Rick Baline asked Lois Horowitz one April evening in 1932. His hands were behind his back, hiding something. They were outside the Horowitz family home in New York, and the sun was shining. Rick thought Lois looked beautiful, but he didn't want her father to know about his love for his daughter.
Rick had been successful as the manager of Solly's Tootsie Wootsie Club, but Solly wanted a rich and famous man, with an education, for his daughter. He didn't normally allow Rick and Lois to go out together. But Rick still had his dream.
"What's behind your back? I can't guess. Tell me."
"I have two tickets for the theater tonight," said Rick. "For Show Stoppers, with Ruby Keeler and Al Jolson." He didn't tell her how he had gotten the tickets.
"You certainly don't give a girl much time to get ready for the biggest show on Broadway."
"The prettiest girl in Harlem doesn't need much time."
They didn't tell Solly about their plans for the evening.
After the theater, Rick took Lois to Rector's, a restaurant famous for its food and for the gangsters who ate there.
"Look, there's Mae West," said Lois, excitedly.
Rick looked, and saw O'Hanlon at another table with the famous actress. He reminded himself that his first gunshot had been aimed at O'Hanlon's men.
Rick turned to a waiter, "Champagne."
He looked over at O'Hanlon again. The gangster was short, well-dressed, and had a chest like a refrigerator. He had confidence in his place at the top of his world. Even here he kept his hat on, wearing it low, over his left eye, but he could see everything that mattered. He made a sign to someone behind him.
Two seconds later, O'Hanlon's man was beside Rick. "Mr.
O'Hanlon invites you to join him," he whispered.
They went. O'Hanlon greeted them. "Champagne?"
"We ordered some," replied Lois.
"But we must have special champagne for a beautiful girl like you. You recognize Miss West, I'm sure, and I want you to meet this young man, Robert Meredith. We've all read a lot about him in the newspapers."
Rick knew the name. Meredith was a lawyer from a rich family, and he was rising fast in the world of politics.
Meredith smiled. "Good evening, Miss Horowitz."
" . . . and this gentleman with Miss Horowitz," continued O'Hanlon, "has a great head for business. Mr. Baline has made one of Miss Horowitz's father's clubs, the Tootsie-Wootsie, nearly as famous as my own. Mr. Meredith, would you please take Miss Horowitz to that other table for a few minutes. I want a private word with Mr. Baline."
O'Hanlon started straight in. "Please tell the beautiful Miss Horowitz's father that I have no bad feelings about his attacks on my Canadian trucks. I'm a nice, kind man, as you know . . . and I have a suggestion for him."
Rick was listening but not understanding. O'Hanlon smiled. It wasn't a pleasant smile. "This offer is in the shape and form of Mr. Robert Meredith here …," he continued. "Mr. Horowitz would be so happy if his daughter became Mrs. Robert Meredith, wouldn't he?" O'Hanlon looked into Ricks eyes."Ah, I see you're in love! But Miss Horowitz is not for you. This marriage would be good for me, for Mr. Horowitz, and for you."
Rick looked over at the other table. Meredith was laughing and talking. Lois was sitting very close to him, her hair brushing his face.
"I think maybe I'm not needed over there," Rick said.
"Let me tell you something before you go," said O'Hanlon. "I heard you stopped one of my boys from shooting your boss. That was brave, but also stupid. I'm warning you . . . don't be too brave. You'll find you live longer that way. Smart men hear warnings, and you seem smart. I'm not so sure about your boss."
At that moment, Rick saw Meredith kiss Lois. He felt like a fool, and left.
Rick drove around angrily for a time. He passed Salucci's place. Salucci was a gangster who liked his clothes, his cars, and his women. The house was well lit, and there were five or six hard boys watching the place for him. He was different from Solly, and younger, and he hit harder.
Maybe he should listen to O'Hanlon's warning? He loved his new life, but he was also ashamed of his part in the world of crime. He stopped the car outside Solly's house and sat thinking.
Should he tell Solly about his love for Lois? Should he tell him about O'Hanlon's warning?
He saw the lights of another car. Two people got out.
Meredith led Lois to her front door and kissed her on the lips for a long time.
He left. Rick turned down his window and called to her. "It's me. Did you enjoy this evening?"
"I had a wonderful time. Thanks. And Robert said he wanted to see me again, with my father's permission. Listen, Rick, I have to go in now. It's late."
"No. Not yet." He got out of the car. He had never thought that she might not be in love with him. "There's something that I've wanted to say to you for a long time. I love you. I've always been in love with you. Marry me, Lois."
"No, Rick, I can't."
"You can't, or you don't want to?"
"Both," she said, and he knew that he was finished. "Rick, you're sweet, but I couldn't marry you, even if I wanted to. But don't look so sad. I do love you a little, and my dad thinks you're wonderful. You're going to go a long way in his business."
She put her key in the lock, and then she turned back to Rick.
She kissed him, slowly, the way he had always wanted her to kiss him. She pulled away, and her lips were the last part of her body to separate from his. "But I must go. It's late and I need my sleep."
Three months later, Solly and Rick met at the Tootsie-Wootsie.
They were sitting in Rick's office, counting money. Solly only trusted two people with his money: himself and Rick. Pick Baline was born for his job. He kept an eye on the customers, but he didn't drink with them. He checked that the waiters and others didn't steal from him. Rick knew where and how to get the best wines and beer. He had learned all the tricks so quickly.
He talked to the police in a language that they understood. He gave them a little Tootsie-Wootsie money, and the alcohol trucks arrived without trouble. Also, he had found an excellent black piano player and singer, Sam Waters.
"Solly, there's some business I'd like to discuss. It's about Lois."
Rick was afraid of Solly's anger and had delayed delivering O'Hanlon's message. But now was the time.
Solly interrupted. "Isn't it great about her and that lawyer?"
"What lawyer?"
"Don't tell anybody, but Lois is thinking about marrying a big man. Mrs. Robert Meredith. It sounds …"
Solly was looking like a proud father when the first bullet hit the wall behind his head.
The second one hit the desktop lamp. Solly and Rick were on the floor immediately, and Solly fired two shots before the third bullet hit the desk. Rick put his head around the corner of the desk, very slowly. He could just see two feet beside the open door of the office. He and Solly went to look. The feet belonged to a dead man. Beside him, there was another body.
Also dead.
Solly suspected Salucci. Rick knew that O'Hanlon had sent the gunmen. O'Hanlon was reminding Solly of a message that he had never received.
مشارکت کنندگان در این صفحه
تا کنون فردی در بازسازی این صفحه مشارکت نداشته است.
🖊 شما نیز می‌توانید برای مشارکت در ترجمه‌ی این صفحه یا اصلاح متن انگلیسی، به این لینک مراجعه بفرمایید.