سرفصل های مهم
فصل 01
توضیح مختصر
زمان مطالعه

15 دقیقه

سطح

ساده
دانلود اپلیکیشن «زیبوک»
این فصل را می‌توانید به بهترین شکل و با امکانات عالی در اپلیکیشن «زیبوک» بخوانید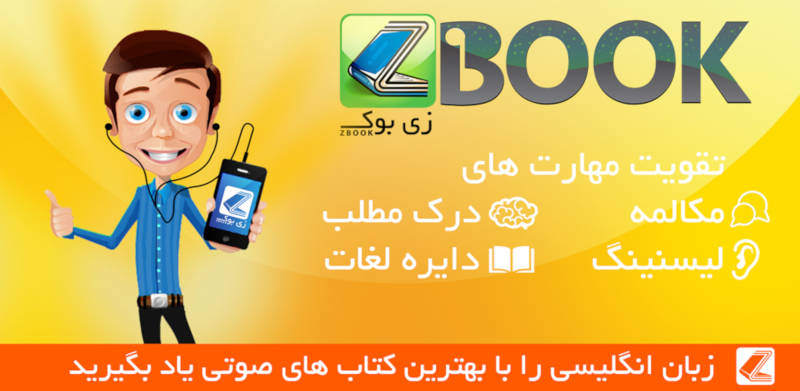 متن انگلیسی فصل
CHAPTER ONE
In the Churchyard
My name is Philip Pirrip, but as a child I could not say my name.
I called myself Pip, and that has been my name ever since.
I never knew my mother and father. They both died when I was a baby. I was brought up by my only sister, who was married to a blacksmith, Joe Gargery.
My story begins on a cold, grey winter afternoon in the churchyard where my parents are buried. I would often go to their graves and look down at the words on their gravestone: Philip Pirrip and Georgiana, Wife of the Above. I was a sensitive and lonely child and was often sad.
The marshes beyond the churchyard were grey. The river beyond the marshes was a darker line of grey. A bitter wind was blowing across the marshes from the sea. The graveyard was a dark and frightening place.
I shivered. Cold and afraid, I began to cry.
'Quiet, you little devil!' cried a terrible voice. 'Keep still - or I'll cut your throat!'
A rough-looking man had taken hold of me. He held me tightly by the neck.
'Oh, don't cut my throat, sir!' I cried. 'Please, don't!'
The man's rough grey clothes were torn and muddy. Like me, he was shivering with cold. His shoes were old and broken. He had a torn piece of cloth tied round his head. And his eyes were wild and terrible.
'Tell me your name,' the man growled. 'Tell me. Quick!'
'Pip, sir. Pip,' I answered.
'Show me where you live,' the terrible man demanded.
I pointed towards our village, which was about a mile away from the churchyard.
The man stared at me for a moment. Then, with a sudden movement, he picked me up and turned me upside down. A piece of bread fell out of my pocket. The man pushed me onto a gravestone. Then he grabbed the bread and began eating greedily.
I sat on the gravestone where he had put me, shivering and crying with fear.
'Now, tell me, where's your mother?' the man in grey asked suddenly.
'There, sir,' I answered, pointing over his shoulder to my mother's grave.
The man looked behind him and started to run.
'I mean - she's buried there, sir. That's my mother. "Georgiana, Wife of the Above".'
'Oh, I see,' the man said, limping slowly back. 'And is that your father there buried with your mother?'
'Yes, sir,' I replied.
'Then who do you live with?' the man asked. 'That is, if I let you live,' he said roughly.
'With my sister, sir - Mrs Joe Gargery - wife of Joe Gargery, the blacksmith, sir.'
'A blacksmith, is he?' the man muttered, looking down at his leg. There was a thick band of iron round his ankle, with a broken chain hanging from the band.
The man came nearer. He took hold of my arms and tipped me back over the gravestone as far as I could go. His terrible eyes stared into mine.
'Now, look here,' he said. 'Do you know what a file is?'
'Yes, sir.'
'Then you get me a file. And you get me some food. Do you understand?'
'Yes, sir.'
'Bring me, early tomorrow morning, a file and some food,' the man repeated slowly. 'Bring them to the Old Fort, over there, by the river. Say nothing to no one and maybe I'll let you live.
'But if you tell anyone about me,' the terrible man said slowly, 'your heart and liver will be torn out! Torn out, roasted and ate.
'Now, I'm not alone,' he went on. 'There's a young man near here, listening to every word I say. He has a secret way of finding a boy, wherever he is. Even if a boy is warm in bed, behind a locked door, that young man will find him. What do you say to that?'
I promised I would bring him the file and the food very early in the morning.
'Lord strike me dead if I don't - say it!' the man growled.
'Lord strike me dead if I don't,' I repeated.
The man lifted me down from the gravestone. Then he held his arms around his shivering body.
'Goodnight, sir,' I whispered.
'Nothing much good about it,' the man replied, looking across at wet and windy marshes. 'I wish I was a frog - or a fish!'
He limped off through the churchyard, towards the marshes. He turned once to look back at me.
I began to run home as fast as I could.
When I got home, the forge was shut up. Joe had finished work for the day. I opened the door of the house. I crept quietly into the warm kitchen and saw Joe, sitting alone by the fire, smoking his pipe.
Joe Gargery was a huge, fair haired man with kind blue eyes. He looked at me sadly.
'Mrs Joe has been out looking for you, Pip,' Joe told me. 'She's out there now, Pip. And she's got Tickler with her.'
This was very bad news. Tickler was a stick that I had often felt on my thin body.
For although I had food, clothes and shelter, my sister was a hard and angry woman and would often beat me. Her husband, Joe, was my only friend.
'Has she been out long, Joe?' I asked nervously.
'Well,' said Joe, looking up at the clock, 'this time, she's been out about five minutes.
'And I hear her coming back, Pip old chap,' Joe added. 'Get behind the door!'
My sister pushed open the door with a bang. She soon saw where I was hiding and beat me until I cried. Then she threw me angrily across the kitchen to where Joe was sitting. Joe quietly placed me in the corner near the fire and protected me with his own powerful body.
My sister was twenty years older than me. She was tall and thin, with a hard face and sharp black eyes. The rough red skin on her bony hands and face made her always look angry.
'Where have you been, you young monkey?' Mrs Joe cried, stamping her foot. 'Tell me what you've been doing all this time!'
'I've been in the churchyard,' I answered, crying.
'Churchyard?' Mrs Joe repeated sharply. 'You'd have been in the churchyard long ago, if it hadn't been for me. Who brought you up? Tell me that!'
'You did,' I sobbed.
'And why I did, I don't know,' my sister exclaimed. 'It's bad enough looking after this blacksmith, without being your mother too! One of these days, you'll drive me to the graveyard, the pair of you.'
Joe said nothing. He was a simple, gentle man and he never complained about Mrs Joe's bad temper. But he protected me when he could and I loved him for it.
It was Christmas Eve and Mrs Joe was very busy. She was making the food for the Christmas meal next day. She made me stir the mixture for the Christmas pudding for an hour and then I was allowed to sit by the fire with Joe.
As I sat by the warm fire, I thought of the man on the cold, wet marshes. I remembered my promise to him. I thought of the young man who would find me and kill me if I broke that promise.
The silence of the quiet night was suddenly broken by loud noises that seemed to come from the sea.
'Are those the great guns, Joe?' I asked.
Joe nodded.
'Another convict's escaped,' he said. 'One got away last night and the guns were fired for him. Now they're giving warning that a second one has escaped.'
'Who's firing the guns?' I asked.
'Ask no questions and you'll be told no lies,' my sister snapped in reply.
'Mrs Joe,' I said politely, 'I really should like to know, if you don't mind, where the firing comes from.'
'From the Hulks, the Hulks,' my sister answered.
'And, please, what are the Hulks?'
'Hulks are prison ships, moored on the other side of the marshes,' Mrs Joe explained impatiently.
'I wonder who's put into prison ships and why they're put there,' I said.
Mrs Joe leapt up and grabbed me by the ear.
'People are put in the Hulks because they murder and rob and do all kinds of bad things,' she said. 'And they all begin by asking questions!'
Mrs Joe pulled my ear hard as she spoke and gave me a push.
'And now go off to bed!' she added.
I went slowly up the dark stairs, thinking about the terrible prison ships. I had begun by asking questions. And, in a few hours, I was going to steal from Mrs Joe!
I slept very little that night. I was afraid of Mrs Joe. I was afraid of the convict on the marshes. And, most of all, I was afraid of the terrible young man.
At last, the grey light of dawn came into the sky. I got up and dressed. Quietly and carefully, I crept downstairs to the pantry.
I found some bread, a piece of cheese and a large bone with some meat on it. There was a bottle with a little brandy in it and I took that too. Last of all, on the top shelf, I found a beautiful, round meat pie.
A door in the kitchen led into the forge. I unlocked the door and looked for a file among Joe's tools. Then, locking the door behind me, I walked back through the kitchen.
Turning the big key, I opened the house door carefully. In a few moments, I was running as fast as I could towards the Fort on the misty marshes.
It was a frosty morning and very damp and cold. The grass was wet and water dripped from the trees. The mist was so thick over the marshes that I could only see a few feet ahead of me. As I ran, trees, cows and gates seemed to lean out of the mist to stop me.
I knew the Fort well, but in my terror, I almost lost my way. I had just crossed a ditch when I saw the man in grey. He was sitting on the ground with his back to me. I walked up to him quietly and touched his shoulder. He jumped up and turned to face me. It was not the same man!
But he was dressed in the same rough clothes as the man I had met. He too had an iron on his leg. It was the young man, waiting to tear my heart and liver out!
With a cry, I ran on until I had reached the Fort. And there was my convict. He was swinging his arms and walking up and down to keep warm.
The man grabbed the food from my hand and began eating in great mouthfuls like a dog. When he drank the brandy, he shivered so violently that his teeth nearly broke the bottle.
As he started to eat the pie, I spoke to him.
'I'm glad you're enjoying it, sir,' I said.
'Thank you, my boy. I am, I am,' he replied.
'Aren't you leaving anything for him?' I asked anxiously.
'Him? Oh, the young man. He doesn't need any food,' the convict replied.
'Doesn't he? I thought he looked hungry,' I said.
'Looked? When did you see him?'
'Just now,' I answered.
'Where?'
'Over there,' I said, pointing. 'I thought he was you,' I explained.
The man stopped eating and grabbed my jacket.
'What did the man look like?' he asked me fiercely.
'He… he was dressed like you and… he had an iron on his leg,' I answered. 'And there was a long scar on his face.'
'Was there?' the convict cried. 'So he's escaped from the Hulks, has he? I thought I heard the guns last night. Where is he? I must find him. Curse this iron on my leg. Give me that file, boy. And tell me where you saw him.'
I pointed to where I had seen the young man. The convict stared through the mist. Then, sitting down on the wet grass, he began to file at the heavy iron on his leg.
The sky was lighter now and I dared not stay any longer. My sister and Joe would soon be awake. They would be looking for me. I began to walk quietly away.
When I looked back, the convict was bent over, filing at the iron on his leg. When I looked back again, I could see nothing through the thick mist. But I could still hear the sound of the file as it cut through the heavy leg-iron.
مشارکت کنندگان در این صفحه
تا کنون فردی در بازسازی این صفحه مشارکت نداشته است.
🖊 شما نیز می‌توانید برای مشارکت در ترجمه‌ی این صفحه یا اصلاح متن انگلیسی، به این لینک مراجعه بفرمایید.