سرفصل های مهم
یک پرنده با من صحبت کرد
توضیح مختصر
زمان مطالعه

25 دقیقه

سطح

خیلی سخت
دانلود اپلیکیشن «زیبوک»
این فصل را می‌توانید به بهترین شکل و با امکانات عالی در اپلیکیشن «زیبوک» بخوانید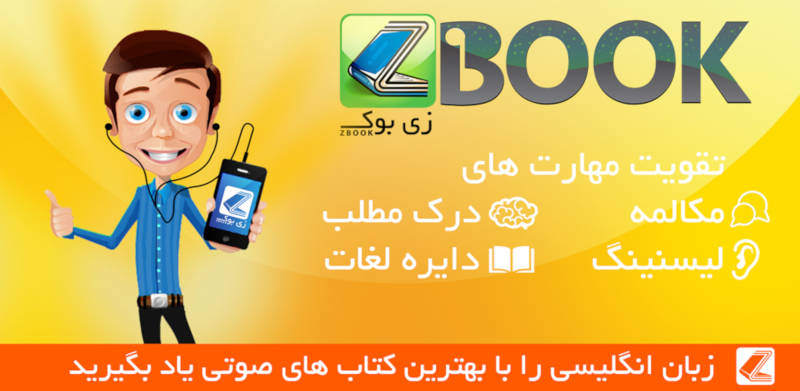 متن انگلیسی فصل
IN WHICH A Bird Talks to Me
The sun is just hitting the tops of the trees when I find a well-marked trail to the big falls and take off along it.
I hear the cry of a goshawk and look up. Recognizing the female by her great size, I stop running to admire the silver gray body streaking through the sky. She is carrying a rabbit home to her nestlings in her taloned feet.
I keep her in view as I follow her toward the falls. Suddenly she screams the alarm cry of the goshawk. Her mate appears in the sky, seemingly coming from nowhere, and dives straight down at me. I must be near the nest.
I am. High in the spruce tree in front of me is a large nest of sticks and—climbing up toward it—Alice.
There she is. Her yellow hair sticks straight up as she lifts a wiry leg and places it on a limb.
The female goshawk climbs, positions herself above Alice, and dives.
"Alice!" I yell. "Duck."
With her wings snapping to gain speed, the great bird aims for Alice, who ducks her head just in time. The female shoots over the treetops, turns, and comes screaming back. The gleaming scimitars that are her talons slice the air just above Alice's head.
"Alice," I shout again. "Get down here."
"Sam!" She looks down and laughs happily.
"You're going to get hurt!" I holler angrily.
"She can't hit me," Alice answers and leans out to see me better. "There're too many limbs." The spruce tree is densely limbed and needled, but what Alice doesn't know is that a goshawk can maneuver a maze.
The frantic hawk speeds upward and, catching a downdraft, hurtles herself at Alice again.
"Here she comes!"
Alice pulls a limb across her body. The hawk dodges it and flies off. Once more Alice leans out to look down at me.
"Sam, hi. I knew you'd find me."
"Alice, get down here. That bird is dangerous."
"I'm okay. I won't let her hit me." She brandishes a spruce branch to show me how she fends the bird off.
"Please."
"Not yet." She climbs higher. The female screams an alarm which is answered by the tercel, who instantly appears and dive-bombs Alice.
Three crows hear the alarm and fly out of the woods to harass the goshawks. Cawing frantically, the crows pursue. To them, any bird of prey must be harassed, but goshawks must be unmercifully bedeviled. They caw without letup.
The tercel ignores them and climbs, it seems to me, into the very stratosphere. Somewhere out of sight he turns and conies into view, plunging straight down at my sister. She flattens herself her against the tree. This is crazy.
"Come down, Alice!"
"No."
Concerned now, I take a running start, jump, grab the first limb of the spruce, and find myself kicking wildly to fend off the female goshawk.
Alice climbs higher. I climb after her. The red eyes of the tercel flash as he comes at me. I pull down a branch. He veers, screams, and speeds off. After wiping spruce dust out of my eyes, I look up to see Alice practically in the nest.
"Sam, come look at the babies."
I can't believe what she's doing. Miss Turner told her what happened to people who went near goshawk nests.
"Get down before you're knocked down," I shout and climb faster.
Alice doesn't come down. I can barely see her for the dense limbs, but I do see the parent goshawks. They scream and dive, but do not hit her.
I watch and wait, not daring to climb any higher. The limbs that hold the nest are too small to support both Alice and me.
The nestlings call their wheezy notes. The parents swoop. Finally, Alice starts down, and I lower myself on the ladder of limbs, looking up as I go to make sure she's coming. Through the needles, I see three baby goshawks peering over the side of the nest. Their mouths are open in fury.
The tercel circles the tree and grows calmer as we descend.
I drop to the ground, followed by Alice. The female alights on the top of a dead tree, panting from fatigue and fear. Her beak is open, her tongue thrust out. She lowers her wings to attack again. What courage.
I pull Alice across the clearing into the shelter of the forest understory. Out of breath, we stop and look at each other.
"Where have you been?" she asks.
"Where have I been? Alice—!" What can I say? "You've got a cut on your head," is all I can think of, so I say it.
Taking out some leaves of the horse sorrel I had picked for last night's meal, I wipe away the blood. The Iroquois Indians used the leaves and roots of this plant to stop bleeding and purify cuts. The bleeding does stop.
"You look like a war veteran," I say, throwing my arms around both her and her pack.
"Be careful," she says, pulling away.
The goshawks have located us and are circling above the trees. I take Alice's hand and pull her to the edge of the escarpment, where I had seen a ledge about ten feet down. I scramble to it and reach up to help her. She slides to my side.
We find ourselves on a ledge under an overhang. I push Alice far under it.
"Get back there where the birds can't see you," I say, urging her deeper into the cavelike shelter.
"Be careful," she snaps. "You're jabbing the baby."
"What are you talking about?"
Taking off her pack she opens it and gently lifts a screaming, fighting baby goshawk.
"What are you doing with that?" I shout.
"Sam, don't be mad." The fierce nestling clenches her talons on air. "I got her for you. When I read your note saying Frightful had been confiscated, I cried. Then I remembered the goshawks Miss Turner had told us about. So I got you one." "Oh, Alice." That's all I can say.
I have accused her of everything from being selfish to stubborn. I have even wanted to send her home. And now she has gotten me this priceless gift. I take the wild-eyed hawklet in my hands and, holding her feet-out, bury my face in her sweet birdy-smelling feathers.
"Oh, Alice, she's beautiful."
"Eeeck," cries the bird, turns her head, and clamps her hooked beak on my hand. Alice pulls her work gloves from her pack and hands them to me. She took them, I now see, to handle a goshawk. She gave a lot of thought to this adventure.
Putting on the gloves, I hold the screaming warrior at arm's length.
"What a present, Alice. What a wonderful present."
Gently rolling the little goshawk on her back, I stroke her breast to hypnotize her and calm her down. She looks at me. I look at her and fall in love. She has large eyes, a Persian beak, and gray silver feathers. Her eyes are just turning red like her parents'. Wrapping her carefully in my T-shirt so she can't see, thrash, and hurt herself, I place her far back under the overhang where she can recover from the scare of being handled by people.
"I'm going up for water, Alice. The little bird is thirsty." She hands me our leather carrier.
"You rest," I say. She nods and sits down grinning happily but apparently glad to obey for a change.
I climb to the top of the escarpment. Not far away a stream flows out of a limey cave, rushes to the edge, and plunges off. I watch its breathless descent.
Maybe Alice wasn't coming here to see this waterfall, I say to myself as the wild stream shoots off into space, but I'm sure glad she did. I stand and admire it in silence and am soothed by the sight of the falling water.
I fill the water bag and am starting back when a squirrel runs over the leaves. I load my sling and, twirling it above my head, let go of one string. The animal falls dead.
At last, victory on the first shot. Maybe Alice and I can survive on my mountain after all. I pick up the squirrel and a brown paper bag dropped by a hiker, then look around for a meadow environment. I find it, a clearing made by campers. As if I am in a familiar grocery store, I look along the meadow edge until I see what I've come for—the delicious leaves of the lamb's-quarters. I also check out a moist pocket by the stream for groundnuts and am rewarded with a string of three-inch nuts on the roots of one plant. I take the nuts and replant the roots.
I am rich again. I have Alice, a squirrel, groundnuts, and greens. I climb down to our camp. Alice is hugging her knees and looking out over the valley below.
"Sam," she says. "Let's stay here a few days. It's beautiful. Look at the view." Needless to say, I hadn't noticed the view, but out before us lie mountains, villages, and rivers. The Adirondacks rise like a jagged blue cutout in the far distance, and off to the right Outlet Falls shoots out over the ledge and spins a white trail to the rocks below.
"Good idea," I say. "It's the perfect place for you and me. I'm close to a goshawk's nest, and you're next to a mighty waterfall." After making a small fire, I cut the paper bag with the scissors in Alice's Swiss Army knife and fold it into a box. In it I put the lamb's-quarters and water and place it directly on the fire. The paper won't burn, because the water keeps it below its kindling point. You can do this with leaves too. The squirrel I cook on a spit.
"Alice," I say after we have eaten. "We have to return the little bird."
"No, Sam, no."
"It's illegal to have her."
"No, it's not. It's a hawk, not a falcon."
"Goshawks are protected by law, too. Sean Conklin, the conservation officer, said all the birds of prey are protected under the International Migratory Bird Treaty. They belong to the world." "Oh, Sam, no. I came so far to get the little bird for you."
"I know it," I say. "Boy, do I know it." I look at her. Mother was right to let Alice stay on the mountain. Living with nature teaches you to give. Alice would not have thought of doing something for me when she first came to my wilderness home.
"Please, don't take her back," Alice pleads. "Not now."
"Well, not right away. We'll enjoy her until dark. Tonight, when the goshawks can't see, I'll return her to her parents." Alice shakes her head sadly.
"You'll feel good," I tell her, "knowing the little bird will take her place in the wild scheme of things." "No, I won't. I want you to have a goshawk."
I uncover the quiet nestling, who, small as she is, picks a battle with me, a giant. She stabs and grips the glove. Carefully unlocking her strong talons, I place her on the ground and offer her a drink and a squirrel part I saved for her. She eats ravenously, and sadly I think of Frightful when she was this age. Then I cover the little bird again and put her far back under the overhang. Thrilled by the privilege of just holding a baby goshawk, I step lightly to the edge of our hideout.
"Creee, creee, creee, car-reet."
I grab Alice's arm.
"Did you hear that?"
"Frightful!" she gasps.
We scramble to the top of the escarpment. Shooting across the clouds like a crossbow in the sky speeds a peregrine falcon. No other bird has that profile.
"Creee, creee, creee, car-reet." And no other bird but Frightful knows my peregrine name.
"Frightful," I call. I can barely see her for the mist in my eyes. She is coming toward us, pumping her wings with quick, strong strokes. Three feet from my face she calls my name again, swoops up, and "waits on" just above me.
"Creee, creee, creee, car-reet." Frightful drops lower, hovers in front of me, then climbs away. She goes higher and higher until she is out of sight.
"She's free, Alice, she's free."
"I knew that."
"What do you mean, you knew that?"
"I told you in my note that I had some good news for you, didn't I? Well, that's it. I set Frightful free." "You did?"
"I found her in the Rensselaerville woods. I cut off her jesses. That's better than her going to the university, isn't it?" "Tell me again. What did you do?"
"Cut her jesses."
I whoop in joy, sweep her up in my arms, and hug her.
"How did it happen?"
"Well, while I was foraging near the Rensselaerville falls, I walked into a clearing where there were three tethered falcons. One of them was Frightful. I recognized her by the jesses and leash you made. No one was there, so I cut her free. That's all." "Alice," I close my eyes in thanks.
"Then," she continues, "while I was standing very still, watching her on the top of a tree getting her bearings, the coyote slipped up and killed one of the other birds. I stood perfectly still. She didn't see me because she was too busy trying to carry the bird off. It was tethered and she couldn't run off with it, so she sat down and looked at it. Then she got up and dug under the perch until it fell. She picked up the bird and walked away. The ring slipped off the fallen perch, and she dashed into the woods. Clever isn't she?" I am shaking my head and grinning at Alice.
"I was going to let the prairie falcon go, too," she goes on, "but a pickup with a camper on it came into the woods and I ran behind a big tree. Two men got out, saw that Frightful and one other bird were missing, and cursed a lot.
"They were real mad. When they saw the coyote tracks they decided she had killed both Frightful and the other bird. I guess they were afraid she would kill the last one, because they packed her up, gathered their gear, and left. I don't know who they were." "They were thieves and they went to Beaver Corners, not far from here. The conservation officer arrested them this morning." "They were arrested?" Her eyes are wide open and sparkling. "Well, that's good. I didn't like them." "What's more, they killed the coyote and her pups."
"Oh, no, Sam," Alice puts her fingertips in her mouth, bites them, and takes them out. "Oh, no. The coyote was so nice. I wanted a puppy. What's the matter with people?" "Some humans think we have the right to be the only predators on earth."
Frightful spirals down from the sky, throws up her wings, and hovers above my lifted hand. My heart pounds.
"Creee, creee, creee, car-reet."
"Hello, yourself, Frightful. Hello, hello."
She wants to come back. I can have her again. All I have to do is whistle her name and she will alight on my fist.
"Call her, Sam," Alice cries urgently. "Call her. Call her."
I purse my lips to whistle. That's all it will take—one whistle of three notes, down, up, down. I want her so much. Frightful "waits on," listening for her name, the signal for her to drop to my hand.
"Call her, Sam. Please, get her back."
I press my lips together. Frightful spreads her tapered wings and catches a rising thermal of spiralling air. She circles up and up and up. All I have to do is whistle. She's waiting for me to call her. She needs me as much as I need her.
She's at the top of the thermal, a speck in the sky.
She waits. I don't whistle.
She tarries a moment longer, then peels off, and speeding like a falling star, shoots off into a cloud and is gone.
"Oh, Sam," Alice cries. "Why didn't you call her? She would have come back."
"Because," I answer softly, "she can breed. I saw her flirt with a tercel last spring. She will have young. There will be wild peregrines on the cliffs again." I take Alice's hand and squeeze it. "Thank you, for setting her free."
We stand on the escarpment for a long time, staring up at the cloud through which Frightful sped to freedom.
After a while we let ourselves down to our ledge and campsite. I sit on a rock with my head in my hands.
Alice hugs her knees. "Well, here we are," she says. "We don't have a peregrine, and you won't keep the baby goshawk, so it's a good thing I took Crystal with me." "What do you mean?"
"When I started out to get the goshawk, I decided I might as well take Crystal. Mrs. Strawberry once said that the Monroe Farm near Livingstonville breeds Poland Chinas. Since the farm was on the way to the Helderberg Escarpment, I decided to drop her off." I swallow hard as I recall the placard on the Monroe Farm.
"To be bred?"
"Well, we don't have Frightful anymore."
"Alice, that means piglets."
"Of course," she snaps. "She's not going to have falcons, that's for sure."
"I hate pigs, Alice," I say. "You know that. They rout up the forest floor and destroy the plants and the animals that live among them. They're smelly. . . ." My tenderness for Alice is fading. I see my wilderness home muddy with wallows and stippled with pig bristles.
"Oh, Sam," she says. "I wouldn't bring her up on the mountain. I'll be keeping her in Mrs. Strawberry's empty pigpen." "Thank you, Alice," I say and sigh.
Kneeling before the fire, I pull apart the coals and place the groundnuts in them.
"Hall-oo, the house!"
"Bando!" I shout and climb up to the top of the escarpment to greet him. The female goshawk drops down from her nest and, feet outspread, bombs Bando.
"Hey," he yells, dropping to the ground. "She's a wild one."
"Come down to our ledge where she can't see you," I say and lead the way.
The goshawk brushes me with her wing as I throw my legs over the escarpment and scramble down to our camp. Bando is close behind.
"Alice!" he shouts. "Where have you been? We've been looking all over for you."
"You should have known where I'd be, what with Frightful confiscated," she says sounding miffed, and then I know why. She starts telling him about the baby goshawk and how I won't keep her after all the trouble she has gone to.
"Sam's right," Bando says, and she sits down in a huff.
Eagerly I ask him what happened in Altamont.
"Bate, his buddy, and the Arab are free on bail pending trial," Bando says. "And the prairie falcon is on her way to Idaho.
"How's that for a happy ending?" he asks and takes a sandwich from his packbasket.
"We have a happier one," I say.
"What is it?"
"Frightful is free."
"She's what?"
"Free. Alice found her in the woods by the Rensselaerville waterfall and cut her jesses."
"You did?" he says, taking her hands in his. "Alice, you're wonderful." He looks at me.
"Do you think she'll survive?"
"I sure do. She was here only fifteen minutes ago, fat and beautiful."
"Frightful was here? How do you know?"
"I know all right," I say, looking at the sky. "She called my name."
Bando is grinning.
"That is the perfect ending," he says and, sitting down, looks out across the beautiful valley and mountains.
I pull a groundnut out Of the fire, let it cool, peel it, and hand it to him.
"Here we go again," he says and, hesitatingly, takes a bite.
"Hey, this is darned good. What is it?"
"Pignut," I say, "for one of its many names." He laughs and takes another bite.
Later, as we all watch the sun slide down the western edge of the great escarpment, we sit in thoughtful silence. The stars come out. The moon is just rising, but it is so dark a daytime bird can't see. I get to my feet.
"It's time to take the little goshawk back." I put on Alice's work gloves and pick up the nestling.
Stroking her softly, I place her in Alice's backpack and scramble to the escarpment top. Gingerly I climb the tree, trying not to jar the little bird too much. Then, high above the waterfall, the woods, and the great wide valley, I nestle her among her siblings. They murmur a greeting and rouse. I think of the wild forests, the cliffs, and the meadows over which they and their offspring will reign, I hope, forever. Then I climb down.
The return of the little bird was as uneventful as her capture was frenzied. The parents, who were sitting in a nearby tree, did not move. They never saw me in the dark. I hope they can count to four. It would make them happy.
I drop back to our ledge, to find Alice balled up like a little caterpillar and sound asleep. Bando is stretched out on his back, his hands under his head, looking out at the stars.
"You know, Sam," he says when I sit down.
"What, Bando?"
"There's a miller in Rensselaerville who knows how to convert a water mill to electricity." He rolls his head my way to watch my reaction.
I see Frightful peeling off and vanishing from sight. I see the little goshawk cuddled against her siblings. I see the stars in their places and hear the waterfall shooting to its destiny out over the edge of the escarpment.
"I'll look into it," I say. "Zella and Alice would like it."
"What about yourself? Would you?"
"Yes. I'm ready. It will make them happy. Besides, I'm going to be very occupied. I'm going to speak to the conservation officer about getting a falconer's license." "But Frightful's gone."
"You said your friend Steve needed people to raise and hack peregrine falcons. I'd like to do that." "You're certainly qualified, and he's often said he would like to have someone raise the birds in a natural setting. He thinks they would adjust to the wild more easily." Bando frowns and turns to me. "But, Sam, won't it be hard to come to love them as you will, and then have to let them go?" "You ask that, Bando, because you don't know what it feels like to set a peregrine falcon free."
مشارکت کنندگان در این صفحه
تا کنون فردی در بازسازی این صفحه مشارکت نداشته است.
🖊 شما نیز می‌توانید برای مشارکت در ترجمه‌ی این صفحه یا اصلاح متن انگلیسی، به این لینک مراجعه بفرمایید.