سرفصل های مهم
فصل 09
توضیح مختصر
زمان مطالعه

9 دقیقه

سطح

متوسط
دانلود اپلیکیشن «زیبوک»
این فصل را می‌توانید به بهترین شکل و با امکانات عالی در اپلیکیشن «زیبوک» بخوانید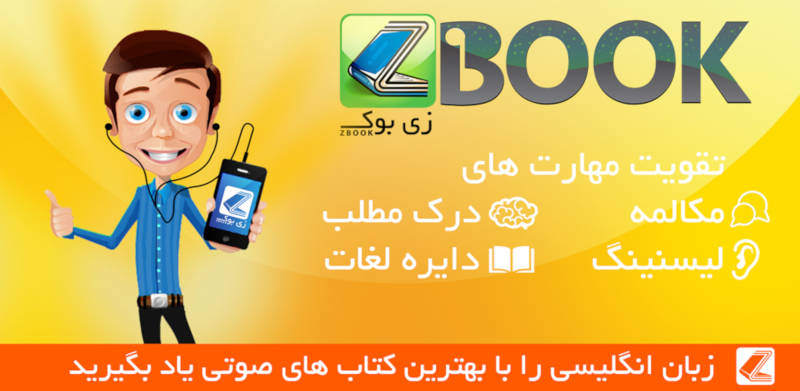 متن انگلیسی فصل
Chapter nine
The Cottage in the Bay
We came to the end of the path. The bushes made an arch over our heads so that we had to bend down. I stood straight again, brushing the rain from my head. I saw that the valley was behind us. We were standing in a little narrow bay. There, almost at our feet was the sea.
Maxim looked down at me, smiling at the surprise on my face.
'It is a surprise, isn't it?' he said. 'No one ever expects it.'
Maxim picked up a stone and threw it across the beach for Jasper.
'Fetch it, good boy,' he said. Jasper ran after the stone, barking with excitement.
We both went down to the water's edge and threw more stones. The tide was coming up into the bay and the water was beginning to cover the stones. Maxim turned to me, laughing and wiping the hair out of his eyes. I rolled up the long sleeves of the raincoat. It was a happy moment.
Then we saw that Jasper had gone. We called and whistled, but he did not come.
'Has he gone back to the Happy Valley?' I asked.
'He was by that rock a minute ago,' said Maxim.
We walked up the beach towards the valley again.
'Jasper, Jasper,' called Maxim.
In the distance, beyond a line of rocks to the right of the beach, I heard a sharp bark.
'Do you hear that?' I said. 'He's gone over this way.' I began to climb up the wet rocks.
'Come back,' Maxim said sharply, 'we don't want to go that way.'
'I must get him,' I said. 'He may be hurt.'
'He's all right,' said Maxim. 'Leave him. He knows the way home.'
I began climbing over the rocks towards Jasper. I thought Maxim was being very unkind. I got to the top of the largest rock and looked beyond it. There was another bay. A small stone wall across the bay made it into a small harbour. In the bay was a green and white buoy, but no boat.
The woods came right down to the shore. At the edge of the woods was a low stone building, a cottage or a boat-house. There was a man standing on the shore, dressed like a fisherman. Jasper was barking at him and running round and round. The man took no notice of the dog.
'Jasper,' I shouted, 'Jasper, come here.'
The dog looked up, but he did not come to me. I looked back, but I could not see Maxim. I climbed down into the bay and the man looked at me for the first time. There was something strange about him. He had small, stupid looking eyes. His face was fat and round and he had thick, red lips.
'Bad weather, isn't it?' the man said with a stupid smile.
'It's not very nice weather,' I said. 'Come on Jasper, we must go home now.'
But Jasper ran away, barking.
'Have you got any string?' I asked the man. 'I want something to tie the dog. He won't follow me.'
'I know that dog, it's not yours. It comes from the house.'
'He's Mr de Winter's dog,' I said kindly. 'I must take him back.'
The man said nothing, but stared at me in the same stupid way.
I walked up the shore to the cottage. Perhaps there was some string there. The grass round the little house had grown very long. The windows had pieces of wood over them. I pushed at the door. To my surprise it opened and I went inside.
The room was furnished and there were books on the shelves.
But everything was covered with thick dust. The air was damp and still. Another door at the end of the room led into a small boat-house. I saw some string on a shelf and an old knife. I cut a piece of string for Jasper and went out of the cottage. There was something frightening about that small, dark room. I was glad to be outside again.
The man was still watching me, staring like a child. Jasper was quiet now and let me tie the string.
'I saw you go in there,' the man said. 'She doesn't go in there now. She's gone in the sea. She won't come back, will she?'
'No,' I said. 'She won't come back.'
'I didn't say anything, did I?' The man's eyes were full of fear. He turned away and walked back towards the sea.
Maxim was waiting for me beside the rocks. He looked angry.
'I'm sorry,' I said. 'I had to get some string for Jasper. Who is that man?'
'That's Ben. He's a bit mad, but he won't hurt you. Where did you get that string?'
'I found it in the cottage. The door was open. There's dust everywhere. The place ought to be cleaned.'
'The door should be locked,' Maxim said. He was walking very fast now. He went up past the cottage and on to a path through the woods. It was very different here from the Happy Valley. The path was steep and the trees were thick, and dark. It was cold now and my legs ached. Jasper was tired too, and walked very slowly.
'Come on, Jasper, for God's sake,' said Maxim angrily. 'Pull at that string, can't you?' he said to me.
'It's your fault,' I said, 'you walk so fast.'
'If you had listened to me, we would be home by now. There was no need for you to go after Jasper.'
'I thought you would come with me,' I answered.
'Why should I run after the damned dog?' Maxim said, not looking at me.
'That's an excuse. You didn't want to go over the rocks,' I answered.
'All right, I didn't. I didn't want to go to the other bay. I never go near the place or that damned cottage. If you had my memories, you would not go there either. You wouldn't talk about it or even think about it.'
Maxim's face was white. His eyes had a dark, lost look. I took his hand and held it tight.
'Please, Maxim, please,' I said. 'I don't want you to look like that. I'm sorry, darling. Please don't let us quarrel.'
'We should have stayed in Italy,' Maxim said. 'I was a fool to bring you back to Manderley.'
I had to run to keep up with him now. At last we came to the top of the path and out on to the lawn. Maxim's face was hard. He walked straight into the house and spoke to Frith.
'We want tea at once,' said Maxim. Then he went quickly into the library and shut the door.
I tried to keep back my tears. Frith must not see them. I turned away as he helped me off with the raincoat. He picked up a handkerchief.
'Is this yours, Madam?' he said.
I put the handkerchief in my pocket and walked slowly across the hall to the library. Maxim was sitting in his usual chair, with Jasper at his feet. I walked across the room and knelt down by Maxim's chair.
'Don't be angry with me any more,' I said.
Maxim looked down at me.
'I'm not angry with you,' he said.
'But I've made you unhappy,' I replied. 'I want you to be happy so much. I love you.'
'Do you?' he said. His eyes were full of pain and fear.
'What is it, darling?' I said. 'Why do you look like that?'
The door opened before Maxim could answer. It was Frith and Robert with the tea. The small table was put near the fire and covered with the white cloth. Frith brought in the silver teapot and kettle. Then came the cups, the sandwiches and cakes. Everything was the same as yesterday. When the servants had gone, I looked at Maxim's face. The colour had come back into it. He took a sandwich.
'Pour me a cup of tea, darling,' he said to me. 'And forgive me for being so unkind.'
There was nothing more to say. Maxim smiled at me and picked up his paper. Maxim's smile was like a pat on the head given to Jasper.
I was not hungry and I felt very tired. I gave Jasper a piece of cake and took out the handkerchief to wipe my hands. The handkerchief was not mine. It must have come from the raincoat pocket. There were some letters in the corner - a tall "R" and "de W." It was Rebecca's. The raincoat, too wide, too long for me, must have been hers too. Rebecca had worn that raincoat. She had left the handkerchief in the pocket. I could smell a scent, a scent I knew. I shut my eyes and tried to remember what it was.
Suddenly I knew. The scent on the handkerchief was the scent of the flowers in the Happy Valley. Was there nowhere I could escape from Rebecca?
مشارکت کنندگان در این صفحه
تا کنون فردی در بازسازی این صفحه مشارکت نداشته است.
🖊 شما نیز می‌توانید برای مشارکت در ترجمه‌ی این صفحه یا اصلاح متن انگلیسی، به این لینک مراجعه بفرمایید.